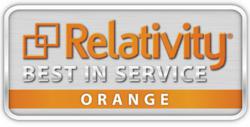 D4 has continually met high standards for technical expertise, customer service and product knowledge
Rochester, NY (PRWEB) June 06, 2013
D4, LLC, a national leader of eDiscovery, digital investigations, information management and security solutions to law firms and corporations, today announced that it has achieved kCura's Orange-level Best in Service recognition for outstanding and exceptional customer service, accommodating Relativity end users with a high-quality experience. D4 is a Relativity Premium Hosting Partner, supporting the web-based platform for the processing, review, analysis and production of electronic evidence for their clients during litigation and investigations.
Through a voluntary audit, Relativity Best in Service partners demonstrate their expertise and experience hosting projects in Relativity. kCura evaluates these partners in three areas: technical infrastructure, customer service and product expertise. Additionally, Best in Service partners meet a set of requirements for their duration as a hosting partner, size of Relativity installations and core Relativity certifications.
kCura has two designations for Best in Service: Orange and Blue. While both sets of partners are certified to provide a quality Relativity experience, Orange-level partners are recognized for making additional investments in people, process, and technology to manage installations with above-average user counts—all while maintaining the high standards of Best in Service.
"D4 has continually met high standards for technical expertise, customer service and product knowledge," said Andrew Sieja, president and CEO of kCura. "We're excited to recognize them as a Best in Service partner for a fourth consecutive year."
"D4 is extremely pleased to once again be recognized for our efforts in helping our customers manage and search case-related data in Relativity," said John Rubens, COO of D4. "With the eDiscovery climate constantly evolving, our ability to stay on top of critical technical, product and service components is a testament to our team's expertise and work ethic. Our goal is to provide an outstanding level of superior discovery support to our customers and this award recognizes our efforts in that area."
Since its inception in 1997, D4 has worked with clients to analyze billions of documents, while supporting and providing training for a number of litigation support applications. The company has added value through its experience and expertise and helped its clients optimize the discovery process, which has resulted in significant cost reduction and shortened review timelines.
About D4
D4 is a leading national provider of electronic discovery, computer forensics and litigation support services to law firms and corporations. D4 has been instrumental in helping customers realize up to a 70 percent cost reduction over previous eDiscovery solutions. Founded in 1997 in Upstate New York, D4 has grown to a national presence. With over 140 employees, D4 has offices in Buffalo, Detroit, Grand Rapids, Lincoln, New York City, Omaha, Orlando, Phoenix, Rochester, San Francisco, San Diego and Tampa. D4's State-of-the-art Tier 3 data center and operations in Rochester are complemented by electronic discovery, litigation support and paper document services throughout our other offices across the country. D4 has been recognized by Inc. Magazine as one of the fastest growing private companies in the US and is an INC 500/5000 honoree. Visit http://www.d4discovery.com for more information.
About kCura
kCura are the developers of the e-discovery software Relativity, a web-based platform for the processing, review, analysis and production of electronic data. Relativity has more than 75,000 active users worldwide from organizations including the U.S. Department of Justice and 95 of the top 100 law firms in the United States. Relativity also powers Method, kCura's workflow and notification system for managing legal hold and risk assessment processes. kCura helps corporations, law firms and government agencies meet e-discovery challenges by installing Relativity and Method on-premises and providing hosted, on-demand solutions through a global network of partners. kCura has been ranked the 31st fastest-growing technology company in North America on Deloitte's Technology Fast 500 and named one of Chicago's Top Workplaces by the Chicago Tribune. Please contact kCura at info(at)kcura(dot)com or visit http://www.kcura.com for more information.