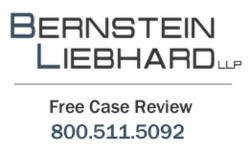 This study serves as an additional reminder that potential risks associated with robot-assisted surgery need further evaluation.
New York, NY (PRWEB) June 04, 2013
As da Vinci lawsuit claims involving Intuitive Surgical's da Vinci Surgical System continue to move forward in courts around the country, Bernstein Liebhard LLP notes that the authors of a newly published study have recommended that surgical teams implement a checklist three to four hours after the start of a robotic surgery procedure in order to reduce complications. Among other things, the authors of the study, which appears in the July 19th issue of Safety in Patient Surgery, note that longer operating times during robotic surgery increase patient risk for adverse events and position-related complications. The longer duration also raises concern for surgical, anesthesia, and nursing staff not seen in shorter, non-robotic procedures.*
"We continue to receive bad robot lawsuit inquiries from patients who allegedly suffered serious injuries in da Vinci robot procedures. This study serves as an additional reminder that potential risks associated with robot-assisted surgery need further evaluation," says Bernstein Liebhard LLP, a nationwide law firm representing the victims of defective drugs and medical devices. The Firm is currently evaluating da Vinci lawsuits on behalf of individuals who were allegedly injured during minimally-invasive procedures involving the da Vinci Surgical System.
Da Vinci Complications
According to a February 28th report from Bloomberg.com, the da Vinci robot has been on the market since 2000, and has been used in thousands of hysterectomies, gall bladder removals, prostate removals, heart surgeries, and thyroid procedures. In January, the U.S. Food & Drug Administration (FDA) sent a survey to hospitals seeking information about da Vinci complications from doctors who use the device. The FDA is trying to determine if a recent increase in bad robot surgery reports involving the da Vinci Surgical System is indicative of a problem with the technology, Bloomberg.com said.**
According to a regulatory filing issued by Intuitive Surgical on April 19th, the company has been named in at least 26 da Vinci lawsuits that allege defects in the robot and/or inadequate surgeon training resulted in serious injuries to patients. According to court documents, the nation's first trial of a bad robot lawsuit involving the da Vinci concluded last month in Washington State Court, with the jury finding in favor of Intuitive. However, according to a May 23rd report from Bloomberg.com, an attorney representing the plaintiffs asserted that there are "thousands of good cases out there," and predicted that many of those lawsuits would have more favorable outcomes for claimants.**** (Estate of Fred E. Taylor v. Intuitive Surgical, 09-2-03136-5, Superior Court, State of Washington, Kitsap County)
In its April 19th regulatory filing, Intuitive acknowledged that it had entered into tolling agreements in some da Vinci lawsuits, in order to allow "additional time to evaluate the claims, to explore whether the claims have merit and whether they can be resolved without litigation." According to a notice entered in the U.S. District Court, Eastern District of Louisiana on March 14th, the company has already settled a claim filed by a woman who was allegedly injured during a robot-assisted thyroid procedure. (Silvestrini v. Intuitive Surgical Systems Inc., No. 11-2704 (E.D. La.))
Alleged victims of da Vinci complications may be eligible to file a bad robot lawsuit to obtain compensation for medical expenses, lost wages, pain and suffering, and more. A wealth of information regarding da Vinci lawsuits is available at Bernstein Liebhard LLP's website. For additional information, please call 800-511-5092.
*pssjournal.com/content/pdf/1754-9493-7-19.pdf
**bloomberg.com/news/2013-02-28/intuitive-surgical-robots-probed-by-u-s-in-survey-of-surgeons.html
***sec.gov/Archives/edgar/data/1035267/000119312513162385/d508282d10q.htm
****bloomberg.com/news/2013-05-23/intuitive-wins-trial-defeats-negligent-training-claims.html
About Bernstein Liebhard LLP
Bernstein Liebhard LLP is a New York-based law firm exclusively representing injured persons in complex individual and class action lawsuits nationwide since 1993, including those who have been harmed by dangerous drugs, defective medical devices and consumer products. The firm has been named by The National Law Journal to the "Plaintiffs' Hot List," recognizing the top plaintiffs' firms in the country, for the past 10 consecutive years.
Bernstein Liebhard LLP
10 East 40th Street
New York, New York 10016
800-511-5092
ATTORNEY ADVERTISING. © 2013 Bernstein Liebhard LLP. The law firm responsible for this advertisement is Bernstein Liebhard LLP, 10 East 40th Street, New York, New York 10016, (212) 779-1414. Prior results do not guarantee or predict a similar outcome with respect to any future matter.
Contact Information:
Felecia L. Stern, Esq.
Bernstein Liebhard LLP
info (at) consumerinjurylawyers (dot) com
http://www.davincisurgery-lawsuit.com/