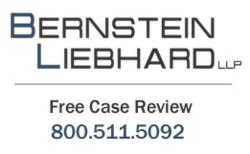 We continue to hear from patients who allegedly suffered serious complications in da Vinci procedures, and look forward to the jury's decision in this case.
New York, New York (PRWEB) May 22, 2013
Jury deliberations are now underway in Washington State Court for the nation's first trial involving a da Vinci lawsuit, Bernstein Liebhard LLP reports. According to filings in the case, the family of a man who allegedly died of da Vinci surgery complications following prostate removal surgery is seeking more than $8 million in damages from Intuitive Surgical, Inc. Among other things, they allege that Intuitive watered down its physician training program for the da Vinci Surgical System in its efforts to drive sales of the robot. However, according to a May 21st report from Bloomberg.com, Intuitive strongly denies any suggestion that its training programs were compromised, and blames the decedent's complications on his surgeon.* (Estate of Fred E. Taylor v. Intuitive Surgical Inc., 09-2-03136-5, Superior Court, State of Washington, Kitsap County (Port Orchard))
"This is just the first of at least two dozen da Vinci robot lawsuits currently pending in courts around the country to go to trial. We continue to hear from patients who allegedly suffered serious complications in da Vinci procedures, and look forward to the jury's decision in this case," says Bernstein Liebhard LLP, a nationwide law firm representing the victims of defective drugs and medical devices. The Firm is currently offering free legal evaluations to individuals who allegedly suffered serious da Vinci surgery complications in procedures involving the da Vinci Surgical System.
Da Vinci Robot Lawsuit Allegations
The patient at the center of the Washington da Vinci lawsuit suffered a series of complications during prostate surgery in 2008, and died of heart failure last August. Bloomberg.com reported on April 29th that an expert witness testifying for his family stated the patient could have survived another five years, with improved quality of life, had it not been for the injuries he sustained during the surgery**. His family also claims he was not aware that his surgeon had never operated unassisted on the da Vinci before performing his prostatectomy. That surgeon, who has since settled with the family, maintained in court filings that he was told by Intuitive that only two assisted surgeries were needed to achieve competency on the machine. During yesterday's closing arguments, an attorney for the Plaintiffs told jurors that this was one of 10 ways Intuitive has been negligent, Bloomberg.com said. *
Intuitive Surgical reported on April 19th that it has been named in 26 personal injury lawsuits filed on behalf of victims of alleged da Vinci surgery complications. According to the company, plaintiffs allege their injuries were the result of defects in the da Vinci robot and/or Intuitive's failure to provide adequate training resources to healthcare professionals.*** According to a February 28th report from Bloomberg.com, the U.S. Food & Drug Administration (FDA) recently launched a survey of doctors who use the device, following a spike in da Vinci complication reports made to the agency.****
Earlier this month, Intuitive Surgical issued a da Vinci instrument warning to hospitals, after it discovered a potential defect in scissors used with the robot that could cause surgical burns in patients. According to a May 10th CNBC report, Intuitive advised that "micro-cracks" in some models of the monopolar curved scissors "may create a pathway for electrosurgical energy to leak to tissue during use and potentially cause thermal injury.*****
Victims of alleged da Vinci surgery complications may be entitled to compensation for medical expenses, lost wages, pain and suffering, and more. Information about filing a da Vinci robot lawsuit is available at Bernstein Liebhard LLP's website. For a free, no-obligation case evaluation, please call 800-511-5092 today.
*bloomberg.com/news/2013-05-22/intuitive-robotic-surgery-case-goes-to-seattle-area-jury.html
**bloomberg.com/news/2013-04-29/intuitive-robot-patient-s-death-hastened-by-surgery-doctor-says.html
***sec.gov/Archives/edgar/data/1035267/000119312513162385/d508282d10q.htm
****bloomberg.com/news/2013-02-28/intuitive-surgical-robots-probed-by-u-s-in-survey-of-surgeons.html
*****cnbc.com/id/100726886
About Bernstein Liebhard LLP
Bernstein Liebhard LLP is a New York-based law firm exclusively representing injured persons in complex individual and class action lawsuits nationwide since 1993, including those who have been harmed by dangerous drugs, defective medical devices and consumer products. The firm has been named by The National Law Journal to the "Plaintiffs' Hot List," recognizing the top plaintiffs' firms in the country, for the past 10 consecutive years.
Bernstein Liebhard LLP
10 East 40th Street
New York, New York 10016
800-511-5092
ATTORNEY ADVERTISING. © 2013 Bernstein Liebhard LLP. The law firm responsible for this advertisement is Bernstein Liebhard LLP, 10 East 40th Street, New York, New York 10016, (212) 779-1414. Prior results do not guarantee or predict a similar outcome with respect to any future matter.
Contact Information:
Felecia L. Stern, Esq.
Bernstein Liebhard LLP
info (at) consumerinjurylawyers (dot) com
http://www.consumerinjurylawyers.com