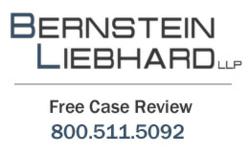 We have heard from numerous da Vinci patients who allegedly suffered surgical burns, and this potential robot surgery complication is also frequently cited in da Vinci robot lawsuits.
New York, New York (PRWEB) June 12, 2013
With da Vinci robot lawsuit claims moving forward in courts around the country, Bernstein Liebhard LLP notes that Intuitive Surgical has confirmed the shipment of replacements for a defective surgical instrument used with the da Vinci Surgical System that has the potential to cause surgical burns. According to a June 6th report from MassDevice.com, the Company has modified its EndoWrist monopolar curved scissor, and began shipping replacements on May 31st.* According to a May 10th report from CNBC, Intuitive had issued an Urgent Device Notification to hospitals last month, alerting them that "micro-cracks" in some models of the scissors "may create a pathway for electrosurgical energy to leak to tissue during use and potentially cause thermal injury."**
"We have heard from numerous da Vinci patients who allegedly suffered surgical burns, and this potential robot surgery complication is also frequently cited in da Vinci robot lawsuits. Among other things, these claims allege injuries related to monopolar energy, with plaintiffs claiming that the electrical current can unintentionally jump from the robot's arm if the insulation is faulty," says Bernstein Liebhard LLP, a nationwide law firm representing the victims of defective drugs and medical devices. The Firm is currently offering free da Vinci robot lawsuit consultations to individuals who allegedly suffered serious robot surgery complications in hysterectomies, prostatectomies and other procedures involving the da Vinci Surgical System.
Robot Surgery Complications
Launched in 2000, the da Vinci Surgical System was used in some 300,000 minimally invasive surgeries last year, including prostate surgeries, hysterectomies, bariatric surgeries and heart procedures. However, according to a February 28th report from Bloomberg.com, regulators recently noted an increase in reports of robot surgery complications, prompting the U.S. Food & Drug Administration (FDA) to launch a survey at hospitals where the device is used. The agency is trying to determine if the increase in adverse event reports is a sign of a problem with the da Vinci robot. Complications reported to the FDA included damage to ureters and bowels, burns to organs and blood vessels, and instances where parts of the robot broke off and fell into patients, Bloomberg.com said.***
In an April 19th filing with the U.S. Securities and Exchange Commission (SEC), Intuitive Surgical acknowledged that it had been named in more than two dozen da Vinci lawsuits involving personal injury allegations that cite either defects in the da Vinci robot and/or inadequate training on the part of Intuitive Surgical.**** Last month, the nation's first trial of a da Vinci robot lawsuit ended in a victory for Intuitive. But according to a May 28th report from Thomson Reuters, plaintiffs' attorneys expect hundreds of similar filings in the future. (Estate of Fred E. Taylor v. Intuitive Surgical Inc., 09-2-03136-5, Superior Court, State of Washington, Kitsap County (Port Orchard))
Court records show Intuitive Surgical filed a petition with the U .S. District Court, Northern District of California on February 19th seeking coordination of 11 state and federal da Vinci robot lawsuits before a single judge. (Cook v. Intuitive Surgical Inc., No. 12-6363 (N.D. Calif.)) According to a notice entered on March 14th, the company has settled a da Vinci lawsuit filed in the U.S. District Court, Eastern District of Louisiana, by a woman who was allegedly injured during a robot-assisted thyroid procedure. (Silvestrini v. Intuitive Surgical Systems Inc., No. 11-2704 (E.D. La.))
Victims of robotic surgery complications allegedly associated with the da Vinci Surgical System may be entitled to compensation for medical expenses, lost wages, pain and suffering, and more. To learn more about filing a da Vinci robot lawsuit, please visit Bernstein Liebhard LLP's website. Free, no-obligation legal evaluations can also be arranged by calling 800-511-5092.
*massdevice.com/news/intuitive-surgical-ships-new-surgical-scissors-following-crack-warning
**cnbc.com/id/100726886
***bloomberg.com/news/2013-02-28/intuitive-surgical-robots-probed-by-u-s-in-survey-of-surgeons.html
**** sec.gov/Archives/edgar/data/1035267/000119312513162385/d508282d10q.htm
About Bernstein Liebhard LLP
Bernstein Liebhard LLP is a New York-based law firm exclusively representing injured persons in complex individual and class action lawsuits nationwide since 1993, including those who have been harmed by dangerous drugs, defective medical devices and consumer products. The firm has been named by The National Law Journal to the "Plaintiffs' Hot List," recognizing the top plaintiffs' firms in the country, for the past 10 consecutive years.
Bernstein Liebhard LLP
10 East 40th Street
New York, New York 10016
800-511-5092
ATTORNEY ADVERTISING. © 2013 Bernstein Liebhard LLP. The law firm responsible for this advertisement is Bernstein Liebhard LLP, 10 East 40th Street, New York, New York 10016,(212) 779-1414. Prior results do not guarantee or predict a similar outcome with respect to any future matter.
Contact Information:
Felecia L. Stern, Esq.
Bernstein Liebhard LLP
info (at) consumerinjurylawyers (dot) com
http://www.davincisurgery-lawsuit.com/