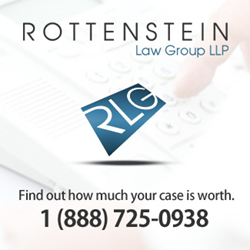 (PRWEB) January 06, 2014
The Rottenstein Law Group LLP announces the launch of its da Vinci Surgical System Lawsuit Center at http://www.roboticsurgerylawsuitcenter.com. The site has features such as news updates and an FAQ page about da Vinci lawsuits and side effects.
The da Vinci system usually features four robotic arms with precision surgical tools and a camera, designed to allow a surgeon to perform procedures such as prostate removals and hysterectomies less invasively than by hand. However, the robot system has been found to cause potentially dangerous side effects, such as internal burns, nerve damage and lacerations, according to a Dec. 4, 2013 Bloomberg story.*
In early December 2013, the U.S. Food and Drug Administration announced that da Vinci maker Intuitive Surgical had notified its customers of a malfunction during surgery that potentially put patients at risk, according to Bloomberg. Friction in one of the device's arms would cause the tools to stall, the story said. Additionally, in the first ten months of 2013, the FDA received nearly 4,000 adverse event reports, ranging from claims of injury to death, according to a Nov. 11 Businessweek article.**
The Rottenstein Law Group LLP encourages those who believe that their da Vinci robotic surgery harmed them to visit its FAQ page for information on da Vinci side effects and lawsuits.
*bloomberg.com/news/2013-12-04/intuitive-warns-surgeons-of-friction-with-robotic-surgical-arms.html
**businessweek.com/news/2013-11-11/intuitive-robot-surgery-incidents-add-to-call-for-more-training
About THE ROTTENSTEIN LAW GROUP LLP
The Rottenstein Law Group LLP is a New York-based firm that represents clients nationwide in mass tort actions. The firm was founded by Rochelle Rottenstein, who has more than two decades of experience as a lawyer, to represent clients hurt by defective medical devices and medications. (Attorney advertising. Prior results do not guarantee a similar outcome.)
Contact:
The Rottenstein Law Group LLP
Rochelle Rottenstein, Esq.
100 Merrick Road
# 266
Rockville Centre, NY 11570
(212) 933-9500 (office phone)
(212) 933-9980 (facsimile)
rochelle (at) rotlaw (dot) com
plus.google.com/106070664376281033016
Intuitive Surgical asserts that it is fully committed to superior training opportunities for surgeons and surgical teams in the use of its products, but notes that it does not participate in determining when a surgeon is adequately prepared to operate using the da Vinci Surgical System.
###