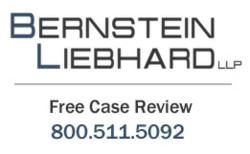 Many of the injuries detailed in the report echo what we have heard from numerous individuals who have contacted our Firm with da Vinci lawsuit inquiries.
New York, NY (PRWEB) June 17, 2013
As da Vinci robot lawsuit claims continue to move forward in courts around the country, Bernstein Liebhard LLP notes that a recent report aired on the NBC news program, Rock Center, detailed some of the disturbing robotic surgery complications alleged to have been caused by the da Vinci Surgical System. Among other things, the June 14th broadcast revealed that the U.S. Food & Drug Administration (FDA) has received more than 200 reports of da Vinci patients who suffered burns, cuts and infections since 2007. Just under half of those incidents – 89 to be exact – involved patient deaths.*
"Many of the injuries detailed in the report echo what we have heard from numerous individuals who have contacted our Firm with da Vinci lawsuit inquiries," says Bernstein Liebhard LLP, a nationwide law firm representing the victims of defective drugs and medical devices. The Firm is currently offering free legal evaluations to individuals who allegedly suffered serious robotic surgery complications in procedures involving the da Vinci Surgical System.
Robotic Surgery Complications
According to the Rock Center report, at least 400,000 procedures were performed last year using the da Vinci Surgical System, including heart surgeries and colorectal surgery, as well as treatments for prostate, kidney, lung, throat and bladder cancer. In addition to the robotic surgery complications discussed during the broadcast, the Rock Center report also noted that the da Vinci robot hasn't proven to be any better at reducing complications for patients than existing surgical techniques. Studies have also shown that robot surgery often costs significantly more than other surgical methods.
Robot surgery complications involving the da Vinci have also attracted the attention of the FDA. In January, the agency sent a survey to hospitals that participate in its product safety network which sought information about da Vinci robot injuries. The FDA is trying to determine if the recent increase in adverse event reports involving the da Vinci Surgical System is indicative of a problem with the technology.**
In an April 19th filing with the U.S. Securities and Exchange Commission, Intuitive Surgical acknowledged that it had been named in 26 da Vinci lawsuits filed on behalf of patients who allegedly suffered serious complications in robotic surgery procedures. Among other things, Plaintiffs claim these injuries were the result of defects in the da Vinci Surgical System and/or the company's failure to provide adequate training resources to healthcare professionals.*** According to a May 28th Reuters report, Intuitive recently won the nation's first trial involving a da Vinci robot lawsuit, but plaintiffs' attorneys expect hundreds of similar filings in the future. **** (Estate of Fred E. Taylor v. Intuitive Surgical Inc., 09-2-03136-5, Superior Court, State of Washington, Kitsap County (Port Orchard))
Victims of robotic surgery complications allegedly caused by the da Vinci Surgical System may be entitled to compensation for medical expenses, lost wages, pain and suffering, and more. To learn more about filing a da Vinci robot lawsuit, please visit Bernstein Liebhard LLP's website. Free, no-obligation legal evaluations can also be arranged by calling 800-511-5092.
*rockcenter.nbcnews.com/_news/2013/06/14/18958967-robotic-surgery-is-high-tech-tour-de-force-but-is-it-safe
**bloomberg.com/news/2013-02-28/intuitive-surgical-robots-probed-by-u-s-in-survey-of-surgeons.html, Bloomberg, February 28, 2013
*** sec.gov/Archives/edgar/data/1035267/000119312513162385/d508282d10q.htm
****http://newsandinsight.thomsonreuters.com/Legal/News/2013/05_-_May/Intuitive_Surgical_wins_case_over_robotic_surgery_system/
About Bernstein Liebhard LLP
Bernstein Liebhard LLP is a New York-based law firm exclusively representing injured persons in complex individual and class action lawsuits nationwide since 1993, including those who have been harmed by dangerous drugs, defective medical devices and consumer products. The firm has been named by The National Law Journal to the "Plaintiffs' Hot List," recognizing the top plaintiffs' firms in the country, for the past 10 consecutive years.
Bernstein Liebhard LLP
10 East 40th Street
New York, New York 10016
800-511-5092
ATTORNEY ADVERTISING. © 2013 Bernstein Liebhard LLP. The law firm responsible for this advertisement is Bernstein Liebhard LLP, 10 East 40th Street, New York, New York 10016, (212) 779-1414. Prior results do not guarantee or predict a similar outcome with respect to any future matter.
Contact Information:
Felecia L. Stern, Esq.
Bernstein Liebhard LLP
info (at) consumerinjurylawyers (dot) com
http://www.davincisurgery-lawsuit.com/