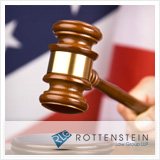 This testimony is important for the plaintiff.
Seattle, WA (PRWEB) May 03, 2013
During a surgical robot trial in Washington State, a former salesman for manufacturer Intuitive Surgical testified that two-thirds of his salary was based on the number of da Vinci surgeries in his sales region.* The Rottenstein Law Group, which represents clients in da Vinci surgical lawsuits, notes the financial incentive associated with these procedures.
Salesman Damon Daniels's territory covered the northwestern United States, according to an April 30 Bloomberg story. He said he would assist with console setup, the positioning of the operating table and the answering of questions, as part of his sales routine. Fred Taylor, whose family is the plaintiff, died of heart disease in 2012. His family attributes his death to a robotic surgery performed four years earlier by what they allege was an under-trained doctor.
"The testimony is important for the plaintiff," said Rochelle Rottenstein, principal of the Rottenstein Law Group. "It could help prove the negligence the plaintiff alleges occurred with regard to the death of Mr. Taylor following a da Vinci robotic surgery."
This is the first da Vinci case (Estate of Fred E. Taylor v. Intuitive Surgical Inc.; 09-2-03136-5, Superior Court, Port Orchard, Wash.) of about a dozen lawsuits in the United States to go to trial. The family of Fred Taylor alleges that Taylor's eventual death was the result of complications associated with a procedure conducted by an inadequately trained surgeon, according to an April 15 Bloomberg story.** Intuitive Surgical asserts that it is fully committed to superior training opportunities for surgeons and surgical teams in the use of its products, but notes that it does not participate in determining when a surgeon is adequately prepared to operate using the da Vinci Surgical System. According to an April 9 USA Today article, the da Vinci surgical robot was used in about 400,000 surgeries in 2012.***
The Rottenstein Law Group encourages people to visit this page to download a free brochure to help them determine if they have a case.
*bloomberg.com/news/2013-04-30/intuitive-salesman-says-robotic-surgeries-drove-salaries.html
**bloomberg.com/news/2013-04-15/intuitive-s-first-robot-surgery-trial-to-probe-training.html
***usatoday.com/story/news/nation/2013/04/09/robot-surgery-fda/2067629/
About THE ROTTENSTEIN LAW GROUP
The Rottenstein Law Group is a New York-based firm that represents clients nationwide in mass tort actions. The firm was founded by Rochelle Rottenstein, who has more than two decades of experience as a lawyer, to represent clients hurt by defective medical devices and medications. (Attorney advertising. Prior results do not guarantee a similar outcome.)
Contact:
The Rottenstein Law Group, LLP
Rochelle Rottenstein, Esq.
321 W. 44th Street
# 804
New York NY 10036
(212) 933-9500 (office phone)
(212) 933-9980 (facsimile)
rochelle (at) rotlaw (dot) com
###