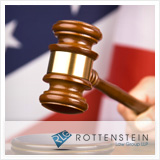 Given that this is the first da Vinci trial, the jury's verdict will be an important one.
(PRWEB) May 23, 2013
A da Vinci surgical robot trial in Washington State was set to enter jury deliberations on May 22.* The Rottenstein Law Group LLP, which represents clients in surgical robot lawsuits, notes that this is the first of 26 lawsuits headed to trial across the nation.
This case (Estate of Fred E. Taylor v. Intuitive Surgical Inc.; 09-2-03136-5, Superior Court, Port Orchard, Wash.) focused on the claims by the plaintiff that Intuitive Surgical did not adequately train the surgeon who performed the prostate removal on the decedent, Fred Taylor, according to a May 22 Bloomberg story, which indicated that the Taylor family seeks $8.45 million in damages. The Taylor family alleges that complications from Fred Taylor's 2008 prostate removal led to his eventual death in 2012. Intuitive asserts that Taylor's urologist performed the surgery on the obese Taylor, violating the company's surgical guidelines, and so it is not at fault, the story said.
"Given that this is the first da Vinci trial, the jury's verdict will be an important one," said Rochelle Rottenstein, principal of the Rottenstein Law Group LLP. "There is the potential, though certainly not the guarantee, that the verdict could help provide insight into the verdicts of future trials."
Intuitive Surgical asserts that it is fully committed to superior training opportunities for surgeons and surgical teams in the use of its products, but notes that it does not participate in determining when a surgeon is adequately prepared to operate using the da Vinci Surgical System. According to an April 9 USA Today article, the da Vinci surgical robot was used in about 400,000 surgeries in 2012.**
The Rottenstein Law Group LLP encourages people to visit this page to download a free brochure to help them determine if they are eligible to file a da Vinci lawsuit.
For the latest news on defective medications and medical devices and related lawsuits, visit the Rottenstein Law Group LLP's Injury Lawyer Newswire at injurylawyernewswire.com. Readers can subscribe to the news site's stories and videos to stay on top of personal injury news.
*bloomberg.com/news/2013-05-22/intuitive-robotic-surgery-case-goes-to-seattle-area-jury.html
**usatoday.com/story/news/nation/2013/04/09/robot-surgery-fda/2067629/
About THE ROTTENSTEIN LAW GROUP LLP
The Rottenstein Law Group LLP is a New York-based firm that represents clients nationwide in mass tort actions. The firm was founded by Rochelle Rottenstein, who has more than two decades of experience as a lawyer, to represent clients hurt by defective medical devices and medications. (Attorney advertising. Prior results do not guarantee a similar outcome.)
Contact:
The Rottenstein Law Group LLP
Rochelle Rottenstein, Esq.
321 W. 44th Street
# 804
New York NY 10036
(212) 933-9500 (office phone)
(212) 933-9980 (facsimile)
rochelle (at) rotlaw (dot) com
###