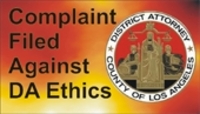 Deputy DA Hanisee brought up Special order 40, saying,
Los Angeles, CA (PRWEB) June 18, 2008
Is the prosecution guilty of ethics violations in the Jamiel Shaw murder case? Full Disclosure Network® presents an eight minute Video News Blog featuring family members of murdered high school football star, Jamiel Shaw, II who was gunned down just three doors from his home by an alleged illegal alien gang member who had been released early from the L.A. County jail after serving four months for weapons violations and assault against a police officer.

D.A. Steve Cooley removed Deputy DA Michele Hanisee from the case just days prior to his re-election to an historic third term. His action also followed Mr. Shaw Sr.'s appearance on radio talk shows exposing what he describes as "objectionable tactics" by the Deputy D.A. Hanisee. The D.A.'s newly appointed prosecutors on the case are Robert Grace, Jr. from the Major Crimes Division and Halim Dhanidina, of the Hardcore Gang Division.
Jamiel Shaw. Sr. told Full Disclosure Network that, "Deputy DA Hanisee brought up Special order 40, saying, "It was intended to help illegal aliens...I felt she has an agenda." He also said the Deputy D.A. urged the family to stop supporting Jamiel's Law, a proposal named after their slain son, endorsed by the family, that would revise the controversial immigration policy called LAPD Special Order 40.
In this video, Shaw family members, Aunt Althea Shaw and father Jamiel Shaw, Sr. describe several reasons why they filed an Ethics Complaint with the State Bar of California, Office of Chief Trial Intake (Reference #08-18824) and the District Attorney's Office via Certified Letter against the Los Angeles County Deputy District Attorney. Also providing background on the State Bar complaint process is former Co-Chair of the State Bar Disciplinary Committee Deputy D.A. Steve Ipsen.
Wednesday, June 18, 2008 is the Preliminary Hearing in Superior Court, State of California, County of Los Angeles (People vs. Pedro Espinosa Case #BA337461): Police have charged Pedro Espinosa, who they describe as "an illegal alien 18th Street gang member" with the murder of Jamiel Shaw, II. According to law enforcement authorities, Espinosa was released early from L.A. County jail after serving four months for weapons charges, assault and battery on a police officer and is an illegal alien. The prosecution is expected to call 10 to 11 witnesses in Division 30 on the 5th Floor of the Criminal Courts Building at 210 West Temple St. Los Angeles, Calif.
L.A. Immigration Policies: Full Disclosure videos have revealed ongoing conflicts in Los Angeles with non-enforcement of Federal immigration law. Watch this three minute video: URL: http://www.fulldisclosure.net/Blogs/56.php where both the District Attorney Office and L.A. Superior Court have issued statements indicating their official policy is to "ignore illegal immigrant status in the criminal justice process." L.A. Councilman Dennis Zine told Full Disclosure, "Special Order 40 has confused LAPD officers" from asking individuals if they are in the country legally or not.
This Video News Blog on the Shaw's complaint is available for sharing from the Full Disclosure Network YouTube Channel. Full Disclosure® will be providing periodic updates on the case and following the progress on the "Jamiel's Law" campaign to revise Special Order 40.
###