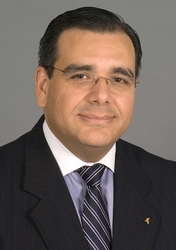 Global Adaptation Institute will directly fund initiatives that build resilience to climate change. Vulnerable populations can't wait for the Kyoto Protocol or other global treaties on carbon and greenhouse gases to save them. - Dr. Juan J. Daboub
Washington, DC (PRWEB) August 31, 2010
The Global Adaptation Institute, a new non-profit focused on adaptation to climate change, announced its founding CEO will be Dr. Juan J. Daboub, just completing a four year term as Managing Director of the World Bank Group.
The climate NGO, to be based in Washington and launching later this year (info(at)globalai(dot)org), seeks to become the pragmatic leader on the critical environmental issue of adaptation to climate change.
"Faced with a changing environment, societies must adapt or perish. Building resilience on food/agriculture, water, energy and coastal protection is vital," Daboub declared. "Our work in the World Bank showed that to maximize credibility, consensus and effectiveness on the vital climate adaptation issue we must have rigorous analysis of data, clear metrics, and realistic solutions," he emphasized.
Adaptation may require US$6-9 trillion investment through mid-century, according to Martin Parry at the Grantham Institute for Climate Change which studies climate mitigation and adaptation.
UN Secretary-General Ban Ki-moon has stressed the urgency of climate change adaptation, "We must get very serious about adaptation and we must do so now. There is no time to lose."
Observers anticipate that the Cancun Climate Summit/COP-16 meeting in December will strengthen the consensus on Adaptation to climate change (also termed "global warming").
"It will be positive if the UN Framework Conference on Climate Change (UNFCCC) increases its focus on Adaptation, but," Daboub emphasized, "private investment is absolutely vital. Our Institute will directly fund initiatives that build resilience to climate change. Vulnerable populations can't wait for the Kyoto Protocol or other global treaties on carbon and greenhouse gases to save them."
Earlier this year, Daboub, a former Finance Minister of El Salvador, was mentioned for the presidency of the Inter-American Development Bank, which he declined to pursue, opting to head the privately-funded climate adaptation group and to teach at Princeton University.
At the World Bank Group (WBG), Daboub oversaw operations in 110 countries. Second in rank only to the president of the WBG, Daboub's portfolio included the Human Development and Sustainable Development Networks, the World Bank Institute, the Governance and Anti-Corruption agenda, and other major areas. WBG President Robert Zoellick praised Daboub for his "sound judgment, a commitment to effectiveness and efficiency."
Daboub, an international businessman educated in the United States, has a PhD in Industrial Engineering.
# # #