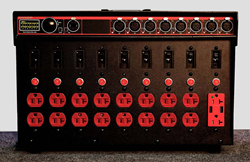 LED lighting has become omnipresent on stages, in studios, and on-location for television, motion picture, and video production. DADCO's BlackCAT and OctoCAT devices are designed to provide both power and data for LED systems as well as DMX capable legacy devices and traditional incandescent and HMI
SUN VALLEY, Calif. (PRWEB) May 30, 2019
The OctoCAT is the newest member of the Control Added Technology (CAT) family of integrated power and control products from DADCO. The OctoCAT complements the BlackCAT series of devices; a new line of power and data distribution devices developed in direct response to the growing need for integrated control solutions in the film, TV, and content creation industries. Both systems will be demonstrated at Cine Gear 2019 May 31 and June 1, 2019 at Paramount Studios in Hollywood, California.
"The ever-growing need for, and proliferation of, control protocols such as DMX, RDM, Art-Net, sACN, RDMnet, GDTF, and Ethernet requires flexible data distribution solutions to cover the needs of productions of all sizes and complexity," said Hans Lau, a DADCO executive. "The growing number of LED fixtures and other devices require a power distribution system with more outlets, but not necessarily more power."
The OctoCAT series fulfills those needs with enhanced lunch-box style power distribution devices with 100A Bates feed through, eight 20A Edison duplexes, as well as a 20A Edison convenience duplex with two USB A charging ports that can also serve as an ordinary 9th circuit. The OctoCAT integrates data distribution with technology from Swisson and wireless CMRX™ technology from LumenRadio; both world renowned manufacturers with a stellar record in the film and TV industry.
The following data distribution options are currently available:

OctoCAT-N - Ethernet Node with 8 output ports of DMX/RDM
OctoCAT-W - Dual LumenRadio CRMX Opto Splitters with 1 input, 1 through, & 4 output ports each
OctoCAT-P - Programmable DMX/RDM Opto Splitter with 2 input and 8 output ports
OctoCAT-R - DMX/RDM Opto Splitter with 1 input and 8 output ports
"LED lighting has become omnipresent on stages, in studios, and on-location for television, motion picture, and video production. DADCO's BlackCAT and OctoCAT devices are designed to provide both power and data for LED systems as well as DMX capable legacy devices and traditional incandescent and HMI lighting fixtures," according to Lau.
The OctoCAT and BlackCAT 100A 120V, & 240V feed-through Lunchboxes with Control Added Technology are available with Edison, L520, L530, L620, L630, and 19 pin Soca output connectors. DADCO also offers a trade-in program for owners of legacy Lunchboxes.
DADCO' subsidiary, Sunray Manufacturing, has just released the Trans Max 12-light LED PAR. A new take on an old workhorse; this new device is made with lightweight aluminum and utilizes 100 watt LED PAR64 globes that are available in daylight or tungsten color temperatures. The high-output, low-wattage systems features an integrated 2-channel dimmer with DMX and RDM, LumenRadio™ CMRX, and local control and runs on an ordinary 15A residential circuit.
About DADCO, LLC
DADCO has manufactured power distribution systems listed by ETL to UL 1640 since the company was founded by Ron Dahlquist in 1995. He has been a leading innovator of lighting and power technology and designed the world renowned 24kW Challenger and G4 HMI systems together with industry icon Wally Mills. Dahlquist is 50+ year member of IATSE Local 728, former Chief of the Set Lighting Department at PARAMOUNT STUDIOS, and former President of KEYLITE PRODUCTION SERVICES. He has been instrumental in the creation of the IATSE National Safety Training Program; serves as a lecturer in that program nationwide and as a consultant for motion picture and television industry safety programs globally. DADCO is a IATSE Local 728 signatory company.
About Sunray Manufacturing
SUNRAY is a brand recognized worldwide as an innovative designer and manufacturer of large format HMI and halogen lighting for more than 30 years and now, the Translyte "Hard Body" LED Systems. SUNRAY was purchased by DADCO in 2009. The lighting fixtures are manufactures by IATSE Local 728 union craftsmen in Sun Valley, California, in the heart of the Hollywood film and television community.