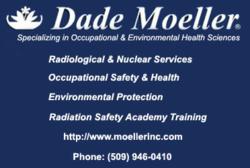 "We are honored to have earned this recognition among Washington's diverse and dynamic business community." CEO Matt Moeller
Richland, WA (PRWEB) June 21, 2011
Dade Moeller (http://www.moellerinc.com) is pleased to announce that Seattle Business Magazine has named the company to its 2011 list of "100 Best Companies to Work For." Dade Moeller ranked number 17 on the list of 26 within the midsize company (100-499 employees) category.
"We are honored to have earned this recognition among Washington's diverse and dynamic business community," said CEO Matt Moeller. "Internally, this award highlights the significant commitment that we have made to our employees. Externally, the recognition underscores to our current and future clients and industry partners, both in Washington and around the country, that Dade Moeller strives continually to be a great company with which to work!"
Companies were initially evaluated and ranked based on corporate responses to an extensive written questionnaire as well as company-wide employee responses to a detailed survey conducted by Gilmore Research Group. A final ranking then was determined by a panel of judges.
The award was presented by the magazine at a banquet held June 16, 2011, at the Westin Hotel in Seattle. Accepting the award on behalf of Dade Moeller were Glenn Caprio, Chief Financial Officer, and Steve Merwin, Treasurer & Executive Vice President. The Top 100 Companies List is available as a PDF file on the Seattle Business magazine's website.
ABOUT DADE MOELLER
Headquartered in Richland, Wash., near the U.S. Department of Energy's Hanford nuclear site, Dade Moeller is a nationally recognized firm that provides a full range of professional and technical services to federal, state, and commercial clients in support of nuclear, radiological, and environmental operations. The company specializes in radiation protection, health physics, worker safety, and radiation training. Founded in 1994, the Company bears the name of Dr. Dade W. Moeller, a premier scientist and educator in the fields of health physics and environmental health.
###