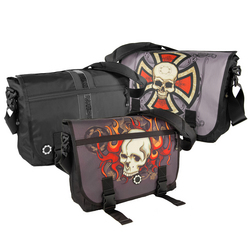 Cary, NC (PRWEB) May 14, 2008
DadGear diaper bags are great-looking, durable bags with "hands free" styling. They are designed for men by men and don't look like diaper bags at all. In addition to the popular messenger bags, they also offer a veriety of backpack and courier styles, as well as their innovative wearable diaper bags!
Made from stylish fleece, the Diaper Vest™ has strategically placed pockets that carry all the essential baby gear a traditional diaper bag does. You can take your baby out and about for hours yet have everything baby needs in the vest. Some features include quick-access to baby wipes from a chest zippered pocket, two large interior pockets for diapers or other baby gear, two bottle pockets on either side of the vest that lie flat when not in use, a slim-design changing pad (included) discretely hidden in a pocket across the lower back, even a utility pocket for your cell phone ear piece or MP3 player headphones. The vests are made with high quality anti-pill mid weight fleece, durable coil zippers and is available in several colors and a jacket styles as well. What an innovative gift for Father's Day!
The ruggedly designed Messenger Diaper Bag incorporates the DadGear "hands free" approach which allows you to change, feed, and entertain your child without ever having to set the bag down. This bag has a removable front panel which allows for easy cleaning and the inside of the bag is a light colored material which allows you to find things easily inside the bag. The messenger bag comes in a wide variety of graphics and original eye catching designs.
The Backpack Diaper Bag has similar features to the rest of the product line and was designed with assistance from a premier expedition backpack designer in Boulder, CO.
No matter what style bag you choose, DadGear bags are an original, stylish, functional gift for any dad on Father's Day.
DiaperBagZilla.com is a niche website by ZillaShops. They offer a huge selection of designer diaper bags from many of the leading vendors in the industry and come in a variety of styles, designs, materials and price points to meet every customer's needs. They pride themselves on offering their customers high-quality, durable, products at the lowest prices with free shipping.
About ZillaShops.
ZillaShops is an online specialty retailer headquartered in Cary, North Carolina.
###