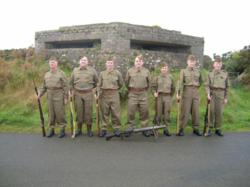 (PRWEB UK) 1 October 2012
40,000 World War 2 service records have been added to the Forces War Records database and are now available for military genealogy searches online. These records contain data about Officers of the Home Guard, also fondly known as Dad's Army. Most Home Guard records are kept in the form of enrolment forms, recommendations for awards and cabinet papers by the Ministry of Defence and other institutions. Forces War Records is the only site to hold these records in digitised transcribed format, making the entire list of Officers of the Home Guard easy to search.
The Home Guard was operational from 1940 to 1944, and was set up by the British Army during the Second World War. The nickname "Dad's Army" was due to the average age of the local volunteers who signed up for The Home Guard, who were ineligible for military service, usually because of their age. Originally called "Local Defence Volunteers" or LDV, the Home Guard's role was to defend British coastal areas, airfields, factories and explosives stores in the case of invasion by German forces and their allies.
Forces War Records holds the most complete online database of military service records, and offers a complete service for those involved in ancestry searches. The database includes records from WW2, WW1, the Boer War, the Crimean War and beyond. It is the only online database with over 4 million military records of British Armed Forces personnel exclusively cross matched with over 4000 Regiments, Bases and Ships of the British Armed Forces going back to before 1350.