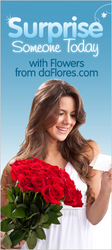 We think it's important for us to be available to customers where they interact online
Miami, FL (PRWEB) July 13, 2010
Social media-savvy flower delivery company daFlores welcomed its 130,000th Facebook fan on 10 July, 2010. The online florist has embraced social media from its earliest beginnings, turning websites such as Facebook and Twitter into customer outreach and service tools.
"DaFlores has been in business since 2000," explains Francisco Bustos, CEO and President of daFlores. "That was the start of today's Internet age, really. As technology unfolds, we use it. We think it's important for us to be available to customers where they interact online."
DaFlores introduced its first Facebook application earlier this year, a tool that allows members to send virtual flowers to their family and friends. The tool has been used thousands of times since it was introduced. The highly active Facebook page (facebook.com/daflores) also shares product information, special offers and giveaways, receiving thousands of "interactions" each week.
"We offer excellent service, quality flowers and an excellent flower delivery experience," notes Mr. Bustos. "Our customers remember us for that and come back time and time again. We suspect that's been why our Facebook page's growth has been so meteoric: We've gone from 30,000 fans to 130,000 in just under a year!"
Just in the last year, daFlores has translated its website into several new languages to go with its English and Spanish versions. The company has been expanding into Europe and Asia and will continue to use computer technology and social media as tools.
About daFlores international flower delivery company
DaFlores.com is a family-owned business based in Miami, Florida. The company provides bilingual, Spanish and English, telephone and online customer service. In April 2010, daFlores released Portuguese, Italian, French and Dutch versions of its sites. The company operates through a network of experienced local florists who must pass strict quality checks.
# # #