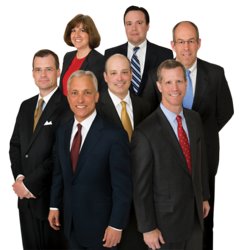 The naming of Clark and Wilkie as partners means that all of the attorneys at Daggett Shuler are now partners of the firm.
Winston-Salem, NC (PRWEB) February 28, 2013
Daggett Shuler, Attorneys at Law is pleased to announce that two of its attorneys, Personal Injury Litigation attorney Michael Clark and Workers' Compensation attorney Christopher Wilkie, have been named partners of the firm. Clark and Wilkie join partners David Daggett, Griff Shuler, John Koontz, Douglas Nauman, and Julie Bell.
Michael Clark is an experienced Personal Injury lawyer who handles complex civil litigation, automobile accident claims, and serious personal injury claims. He has over 20 years of experience in litigating injury claims across North Carolina. Admitted to the North Carolina State Bar in 1990 after obtaining his juris doctor degree at Campbell University's Norman Adrian Wiggins School of Law, Clark has dedicated his career to serving those who have been wrongfully injured by the negligence of others through his trial work. Prior to becoming an attorney, Clark was a Registered Nurse, giving him unique insight into the medical aspects of cases.
"Mike Clark has been a valued member of our litigation team since he joined Daggett Shuler," stated managing partner David Daggett. "He is an accomplished trial lawyer with an outstanding record of professional achievement in handling personal injury matters. In addition to his considerable legal ability, we are proud of Mike's commitment to service, to our profession, and to the community."
"I am honored to be a partner with Daggett Shuler," said Clark. "I feel privileged to work with this exceptional team of attorneys and staff. We continually strive to achieve the best outcomes and service possible for our clients."
Christopher Wilkie is a Workers' Compensation attorney who handles all aspects of Workers' Compensation cases. He represents injured workers before the North Carolina Industrial Commission in various areas of workplace injuries. A 2003 graduate of Wake Forest School of Law, Wilkie has worked his entire career with David Daggett and Griff Shuler.
"We are proud to have Chris Wilkie as a partner in our firm," Griff Shuler and fellow Workers' Compensation attorney said. "Chris has focused his entire career on fighting for the rights of injured workers in North Carolina. He provides results oriented service that is consistently praised by the firm's clients."
The naming of Clark and Wilkie as partners means that all of the attorneys at Daggett Shuler are now partners of the firm. "Each of the attorneys at Daggett Shuler is a distinguished professional. They have each been recognized in their areas of practice. They strive for the very best in teamwork, service, and excellence every day," Daggett added.
Daggett Shuler, Attorneys at Law represents the rights of people wrongfully injured by the negligent conduct of others, injured at work or disabled. Daggett Shuler has an experienced team that represents clients throughout the state of North Carolina. The Daggett Shuler team handles Personal Injuries, Automobile Accidents, Workers' Compensation, and Social Security Disability cases.