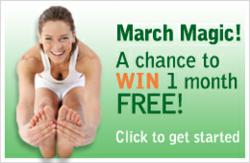 Dahn Yoga reviews from practitioners highlight benefits which include improved strength and flexibility, reduced stress and pain relief. One practitioner said 'Whenever I go I feel recharged and refreshed.'
Gilbert, Arizona (Vocus/PRWEB) March 01, 2011
Dahn Yoga, a national leader in health and wellness, is introducing a special offer for the month of March. Hoping to extend the benefits of Dahn Yoga classes it has created a "March Magic" promotion. Everyone who purchases a new membership between March 1st and March 17th will have the chance to win one additional month free.
"March Magic" winners will be selected from each Dahn Yoga center and will be announced on Monday, March 21st on http://www.dahnyoga.com and Dahn Yoga's Facebook page. For more information about the contest, Dahn Yoga classes and Dahn Yoga benefits visit http://www.dahnyoga.com.
Dahn Yoga classes are simple and accessible and offer an introduction into a unique mind-body practice that combines the ancient wisdom of Ki energy training with a modern understanding of brain health. In addition to attending Dahn Yoga classes, these methods can be practiced with the help of Dahn Yoga videos and DVDs. Dahn Yoga reviews from practitioners highlight benefits which include improved strength and flexibility, reduced stress and pain relief. One practitioner said "Whenever I go I feel recharged and refreshed."
About Dahn Yoga:
Dahn Yoga is a dynamic mind-body practice originating in Korea. Dahn Yoga classes combine stretching, flowing movement, deep breathing exercises and meditation in a simple and easy to learn format. Dahn Yoga is often taught alongside Tai Chi, QiGong and Meditation classes.
In the United States, Dahn Yoga classes are offered at Dahn Yoga & Health Centers, Inc., a national leader in health and wellness. Dahn Yoga classes are also offered at Body & Brain franchise, affiliate and community-based locations. Dahn Yoga reviews can be found at Dahnyoga.com.
###