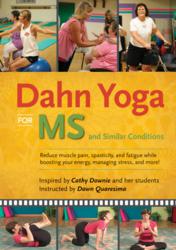 Dahn Yoga practitioners who have been diagnosed with MS credit Dahn Yoga classes and exercises with relieving pain and reducing fatigue and other symptoms. One practitioner said "I'm just totally amazed at the strength and agility I've developed."
Gilbert, AZ (Vocus/PRWEB) March 03, 2011
Every week, nearly 200 people in the U.S. are diagnosed with Multiple Sclerosis (MS). To make more people aware of this fact, March has been declared Multiple Sclerosis Education and Awareness month. Dahn Yoga & Health Centers, Inc., a national leader in health and wellness, hopes to make a difference this March by sharing the stories of Dahn Yoga practitioners suffering from MS, who tell of the benefits of Dahn Yoga exercises for relieving their symptoms .
Multiple Sclerosis is an autoimmune disease that affects the central nervous system, including the brain, spinal cord and optic nerves. The cause of the disease is unknown, but it is most commonly diagnosed in women between the ages of 20 and 40. Symptoms include fatigue, dizziness, tremor, pain and/or cognitive difficulties.
Dahn Yoga practitioners who have been diagnosed with MS credit Dahn Yoga classes and exercises with relieving pain and reducing fatigue and other symptoms. One practitioner said "I'm just totally amazed at the strength and agility I've developed." Stories of other practitioners using Dahn Yoga to manage their MS symptoms will be made available online during March.
Dahn Yoga will also be giving away copies of the 2007 DVD Dahn Yoga for Multiple Sclerosis and Similar Conditions throughout the month of March. Dahn Yoga will give the DVDs to community and charitable organizations, especially those serving communities of people living with MS. Requests can be made via email to wecare(at)dahnyoga(dot)com. More information about the DVD giveaway and how Dahn Yoga benefits MS patients can be found on dahnyoga.com.
About Dahn Yoga:
Dahn Yoga is a dynamic mind-body practice originating in Korea. Dahn Yoga classes combine stretching, flowing movement, deep breathing exercises and meditation in a simple and easy to learn format. Dahn Yoga is often taught alongside Tai Chi, QiGong and Mediation classes.
In the United States, Dahn Yoga classes are offered at Dahn Yoga & Health Centers, Inc., a national leader in health and wellness. Dahn Yoga classes are also offered at Body & Brain Yoga franchises and affiliate and community-based locations. Reviews can be found at dahnyoga.com.
# # #