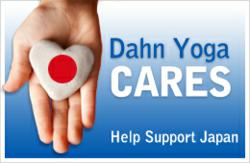 Gilbert, AZ (Vocus/PRWEB) March 22, 2011
Dahn Yoga & Health Centers, Inc. sends its deepest condolences to the people of Japan and their families around the world. It is well known that a massive 9.0 magnitude earthquake hit Japan, triggering a deadly tsunami. Considered the worst earthquake to hit Japan in at least a century, it has caused massive damage and power outages throughout the country. Thousands of people have been evacuated near nuclear plants and many more are suffering from shortages of food, water, shelter and fuel.
The Dahn Yoga community of instructors and practitioners are concerned about the people of Japan as they face the aftermath of recent tragic events and are committed to supporting relief efforts there. From March 22nd until Earth Day, April 22nd, Dahn Yoga will donate $2 from every new membership toward Red Cross emergency relief efforts in Japan. Dahn Yoga encourages others to support relief efforts in Japan.
About Dahn Yoga:
Dahn Yoga is a dynamic mind-body practice originating in Korea. Dahn Yoga classes combine stretching, flowing movement, deep breathing exercises and meditation in a simple and easy to learn format. Dahn Yoga is often taught alongside Tai Chi, QiGong and Meditation classes.
In the United States, Dahn Yoga classes are offered at Dahn Yoga & Health Centers, Inc., a national leader in health and wellness. Dahn Yoga classes are also offered at Body & Brain Yoga franchises and affiliate and community-based locations.
# # #