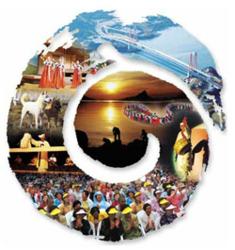 Arirang's meaning is pliable and can soothe the singer of its lyrics in both times of happiness and in times of sorrow.
Gilbert, AZ (PRWEB) February 27, 2013
Dahn Yoga & Health Centers, Inc., a national leader in health and wellness, spotlights the beloved Korean folk song, "Arirang" in the Dahn Yoga newsletter, Dahn Yoga Life. Dahn Yoga Practice is based on Korean holistic traditions. This month's feature on this well-known song offers special insight into Korean culture and philosophy.
The February 2013 issue of Dahn Yoga Life shares the rich cultural history of Korea's most beloved folk song, "Arirang". This traditional favorite was recognized as a national treasure and added to UNESCO's Intangible Cultural Heritage List on December 6, 2012. Although the origins of the song are uncertain, Arirang stands as a uniting force for the people of Korea. The feature article explains the rich tapestry of cultural and geographical influences for the song, as well as the folk tradition of sharing that contributed to the songs' lyrics through many generations, across a span of time.
Of special interest is the Korean pronunciation for the lyrics and the English translation shown together. The implied meanings for each of the verses are included and one can understand how the song has developed its universal appeal for the country. After all, its meaning is pliable and can soothe the singer of its lyrics in both times of happiness and in times of sorrow.
The song's modern history is also revealed, including its inclusion in the opening ceremony for the 2000 Olympics in Sydney, Australia. Also mentioned is New Age pianist, George Winston who recorded the piece, "and remarked that the tune was so beautiful it required no further explanation."
For those not familiar with its beautiful melody, versions of this popular song, "Arirang" can be heard in recordings and YouTube videos across the internet. The feature in this month's Dahn Yoga news will certainly deepen the meaning and the experience of this very special national treasure.
About Dahn Yoga: Dahn Yoga is a dynamic mind-body practice originating in Korea. A national leader in health and wellness, Dahn Yoga classes combine stretching, flowing movement, deep breathing exercises and meditation in a simple and easy to learn format that focuses on the development of the body's core strength as the basis of physical, mental, and spiritual health. Dahn Yoga includes a unique emphasis on the brain as the determiner of health and well-being. Thus, classes may include brain exercises that challenge and sharpen the mind and help practitioners develop greater awareness and sensitivity to the well-being of their bodies. For more information, visit DahnYoga.com or experience online yoga classes on LifeParticle.com and LifeParticle TV's YouTube channel.