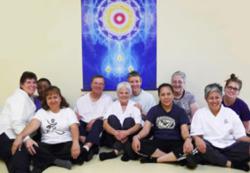 LifeParticles have enlivened the minds and hearts of North Las Vegas BBC members, bringing hope and helping to foster an even more loving environment for the area's residents
Gilbert, AZ (PRWEB) August 20, 2012
Dahn Yoga & Health Centers, Inc., a national leader in health and wellness, spotlights Dahn Yoga Center of the month in their newsletter, Dahn Yoga Life. The August issue features North Las Vegas Body + Brain franchise, where owner/managers Stephanie Parks and Helen Boyles recharge their members with the energy of LifeParticles and the Dahn Yoga community grows.
As the newest center in the Las Vegas area, North Las Vegas Body + Brain Center has been offering Tai Chi style and Dahn Yoga classes for three years. Now, LifeParticle training has been incorporated into the schedule and the practice has become a mainstay ingredient of the center's warmth and energy.
As practitioners discover Dahn Yoga benefits, sharing the experience of their LifeParticles meditations has increased the members' confidence in the practice and the community is finding it a source of comfort and optimism for all.
Dahn Yoga Life explains the North Las Vegas Body + Brain Center's LifeParticle meditation routine and describes how LifeParticles have enlivened the minds and hearts of the members, bringing hope to a community in difficult economic times and helping to foster an even more loving environment for the area's residents.
About Dahn Yoga:
Dahn Yoga is a dynamic mind-body practice originating in Korea. Dahn Yoga classes combine stretching, flowing movement, deep breathing exercises and meditation in a simple and easy to learn format. Dahn Yoga is often taught alongside Tai Chi, Qigong and Meditation classes.
In the United States, Dahn Yoga classes are offered at Dahn Yoga & Health Centers, Inc., a national leader in health and wellness celebrating their sixteenth year of operation. Dahn Yoga classes are also offered at Body & Brain franchise, affiliate and community-based locations