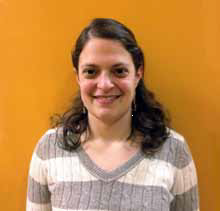 I wanted to give them hope that, whatever they want to do, they have the resources to do it.
Gilbert, AZ (PRWEB) May 07, 2013
Dahn Yoga & Health Centers, Inc., a national leader in health and wellness, shares the story of Laura Castagnino, manager of the Washington DC Dahn Yoga center who shared the benefits of Dahn Yoga meditation with students at her alma mater, Thomas Jefferson High School for Science & Technology.
The recent Dahn Yoga Life feature article, "Meditation for High School Stress" introduces readers to Castagnino who recently returned to her former high school to share her life experience with meditation and of how meditation and yoga can be used to manage the stresses of school and life. The article states that Castagnino offered up Brain Wave Vibration, breathing techniques and visualization as tools to help in realizing goals. "I wanted to give them hope that, whatever they want to do, they have the resources to do it. I hope they can create whatever they want for themselves," she said.
Also of interest is a mention of senior student, Zach Hosseinipour who founded the Mind Body Medicine Society at the school. The club has grown from a few early participants to several dozen members. It was this group that invited Castagnino to speak. Read this heartwarming story of one former student's efforts to give back to the school that influenced her life's path.
Dahn Yoga Life is a monthly online publication that offers articles on a wide range of subjects for Dahn Yoga practitioners and anyone who would like to learn more about Dahn Yoga benefits. Each issue includes information about meditation, health, Korean culture, and happenings in Dahn Yoga communities throughout the world.
About Dahn Yoga:
A national leader in health and wellness, Dahn Yoga is a dynamic mind-body practice originating in Korea that combines stretching, flowing movement, deep breathing exercises and meditation in a simple and easy to learn format that focuses on the development of the body's core strength as the basis of physical, mental, and spiritual health. Dahn Yoga includes a unique emphasis on the brain as the determiner of health and wellbeing and the Dahn Yoga instructor may include brain exercises that challenge and sharpen the mind and help practitioners develop greater awareness and sensitivity to the well-being of their bodies.