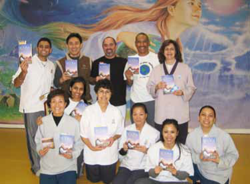 Working together for one vision brings more joy to their life. Every action they take expresses their unconditional love for humanity and the earth
Gilbert, AZ (PRWEB) October 22, 2012
Dahn Yoga & Health Centers, Inc., a national leader in health and wellness, spotlights the Fremont Dahn Yoga Center in their October newsletter, Dahn Yoga Life. This Northern California Center's goal of creating one hundred Energy Meditation Circles and sharing Dahn Yoga benefits with the community is blossoming into reality.
Members currently lead thirty-nine Energy Meditation Circles, and this issue of Dahn Yoga Life shares how the circle leaders have collaborated with creative ideas on conducting the meditations. They have also created a health-minded fundraising event to support the International Brain Education Association, illustrating how working together in the Dahn Yoga community can create a wealth of excitement and success and attract newcomers.
Featured are contributions from several of Fremont's Energy Meditation Circle leaders, including Ann Wheeler, regional coordinator for Energy Meditation Circles who shares her insights on the center's success along with her vision for LifeParticle Meditation and for incorporating Dahn Yoga meditation tools, including video from the meditation website, LifeParticleTV.com into a new six-part course. (http://www.LifeParticleTV.com offers free online guided meditation videos, spiritual interviews and talks, mindful living suggestions and more.)
About Dahn Yoga:
Dahn Yoga is a dynamic mind-body practice originating in Korea. Dahn Yoga classes combine stretching, flowing movement, deep breathing exercises and meditation in a simple and easy to learn format. Dahn Yoga is often taught alongside Tai Chi, Qigong and Meditation classes.
In the United States, Dahn Yoga classes are offered at Dahn Yoga & Health Centers, Inc., a national leader in health and wellness celebrating their sixteenth year of operation. Dahn Yoga classes are also offered at Body & Brain franchises, affiliate and community-based locations, and online.