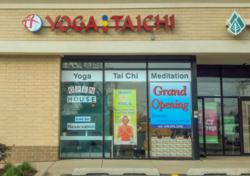 There's been an unexpected affinity to the practice beyond just a regular yoga class; people have really enjoyed learning the holistic side of Dahn Yoga and have shown a lot of interest in the more unique parts of our practice
Chicago, Illinois (PRWEB) November 28, 2012
It's official! The new Glen Ellyn Dahn Yoga Center is open and off to a great start. The October 2012 Grand Opening was a true celebration offering open classes in Dahn Yoga, demonstrations of martial arts, Tai Chi, and meditations for people to experience and enjoy. This contemporary new community resource is nestled in a quiet location, not far from DuPage Community College.
"Seeing the response from so many people was exciting. We didn't even really strategize opening the center next to the college, but soon discovered how many young people, and also teachers and educators are interested in learning holistic health methods, exclaims one of the Chicago area Dahn Yoga Manager, Nate Guadagni. "They just came pouring in the door!"
Proportionally large numbers of young people are joining. Glen Ellyn Center will respond with classes in drumming and martial arts, a dance and other fun activities for the 20-30 year old age group.
"It's been going well and we have about 50 new members in the studio. There's been an unexpected affinity to the practice beyond just a regular yoga class; people have really enjoyed learning the holistic side of Dahn Yoga and have shown a lot of interest in the more unique parts of our practice," explains Guadagni.
"Class sizes are still small, so it's nice and people get a lot of personal attention. The studio is very well designed with interesting contemporary architecture and the whole floor is padded- it's an athletic floor. It's soft and people can use it without even using a yoga mat," Guadagni adds.
Setting up the center and putting the finishing touches on the floor was a true community effort. Instructors from other nearby centers came together and helped out at the open classes for the grand opening. Guadagni comments, "It was really a great community effort, and a really fun experience to have all of the Dahn Yoga instructors together for the Grand Opening!"
There will be specials for new members throughout the holiday season. People can inquire at the center for more details. "Many people like starting Dahn Yoga and exercising before the New Year to get a head start on their New Year's resolutions and their health goals. Also, LifeParticle meditations are a part of every class as well as special meditation classes, sometimes once a week or every other week." Interested people can call the center to learn about one of the many open classes or special classes that may be going on.
Glen Ellyn Dahn Yoga Center is located at 30 South Park Blvd, Glen Ellyn, IL and they can be reached by email at GlenEllyn(at)dahnyoga(dot)com and by telephone at 630-858-2190.
About Dahn Yoga:
Dahn Yoga is a dynamic mind-body practice originating in Korea. A national leader in health and wellness celebrating their sixteenth year, Dahn Yoga classes combine stretching, flowing movement, deep breathing exercises and meditation in a simple and easy to learn format that is focused on the development of the body's core strength as the basis of physical, mental, and spiritual health. Dahn Yoga includes a unique emphasis on the brain as the determiner of health and wellbeing. Thus, classes may include brain exercises that challenge and sharpen the mind and help practitioners develop greater awareness and sensitivity to the well-being of their bodies. For more information, visit http://www.DahnYoga.com or experience online yoga classes on LifeParticle.com and LifeParticleTV's YouTube channel.