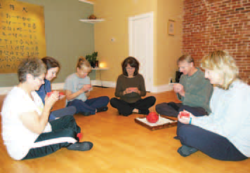 So many people look for love outside of themselves. I used to do that. But when I discovered this well of unconditional love inside of me, I realized that this well is in everyone.
Gilbert, AZ (PRWEB) June 03, 2013
Dahn Yoga & Health Centers, Inc., a national leader in health and wellness, spotlights the Littleton, CO Body + Brain franchise in the recent May 2013 issue of their newsletter, Dahn Yoga Life.
Dahn Yoga Life shares the inspiring story of Dahn Master Lenny Zuehlke, of the Body + Brain Holistic Yoga Studio of Littleton, Colorado who discovered Dahn Yoga's benefits and felt impassioned to share the practice with others. After becoming certified as an instructor, he knew this was his calling and began to think about owning his own studio franchise.
The feature article, "Everyone's Pocket Pal" tells how with perseverance, Zuehlke's vision began to take form. He is quoted as saying, "I desperately wanted to help people experience the freedom that I had discovered through my practice. I had found the key to take the suffering out of the struggle of life."
That key, as Master Zuehlke reminds his members, lies within each of us and he strives to offer example and guidance for the center's members to live from their own true essence and love for self. Read more about Zuehlke's inspiration and the community he embraces in this month's issue.
The publication, Dahn Yoga Life offers a broad overview of topics of interest for Dahn Yoga practitioners and others interested in learning more about Dahn Yoga, as well as information about current events in the Dahn Yoga community throughout the world.
About Dahn Yoga;
A national leader in health and wellness, Dahn Yoga is a dynamic mind-body practice originating in Korea that combines stretching, flowing movement, deep breathing exercises and meditation in a simple and easy to learn format that focuses on the development of the body's core strength as the basis of physical, mental, and spiritual health. Dahn Yoga practice includes a unique emphasis on the brain as the determiner of health and well-being and classes may include brain exercises that challenge and sharpen the mind and help practitioners develop greater awareness and sensitivity to the well-being of their bodies.