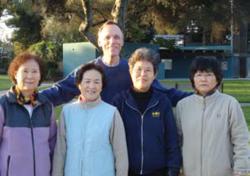 Teaching has helped Rich enjoy Dahn Yoga practice even more. He appreciates the supportive Dahn Yoga community. He says "Dahn Yoga will allow you to find who you really are and that you can really make a positive difference in the world."
Gilbert, AZ (Vocus/PRWEB) April 07, 2011
Dahn Yoga & Health Centers, Inc., a national leader in health and wellness announces a Community Spotlight for April 2011. It commends a Southern California instructor who offers Dahn Yoga classes free of charge in a local park. Dahn Yoga began with classes in a park, so this community project true to the roots of the practice.
A former manager at an aerospace company, Richard "Rich" Cowles has found fulfillment in teaching Dahn Yoga exercises. Cowles had practiced Dahn Yoga for many years and his experience inspired him to become an instructor. The instructor's course he took last year gave him the confidence to start an outreach class in Euclid Park in Garden Grove. Teaching has helped Rich enjoy Dahn Yoga practice even more. He appreciates the supportive Dahn Yoga community. He says "Dahn Yoga will allow you to find who you really are and that you can really make a positive difference in the world."
The Euclid Park class consists mostly of Korean women who speak little English. Despite the language barrier, there is joy and energy in this group's morning routine, as indicated by the laughter and smiles all around. Kyung-ja Kim, a 68-year old member of the class, loves her morning Dahn Yoga routine. "It's the best way to start my day. I'm energized for the whole day and I get to laugh with Rich and my friends."
About Dahn Yoga:
Dahn Yoga is a dynamic mind-body practice originating in Korea. Dahn Yoga classes combine stretching, flowing movement, deep breathing exercises and meditation in a simple and easy to learn format. Dahn Yoga is often taught alongside Tai Chi, QiGong and Mediation classes.
In the United States, Dahn Yoga classes are offered at Dahn Yoga & Health Centers, Inc., a national leader in health and wellness. Dahn Yoga classes are also offered at Body & Brain franchise, affiliate and community-based locations.
###