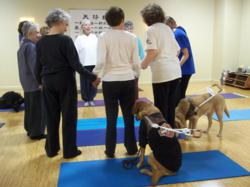 The first class of ten students and four seeing-eye dogs was the start of a successful series. One participant said "I feel so joyful. I feel like a little kid again." Another said "I feel so quiet inside. Really, relaxed!"
Gilbert, AZ (Vocus/PRWEB) March 29, 2011
Dahn Yoga & Health Centers, Inc. announces its recognition of its centers and regions with exemplary commitments to community service. Since the time of its founding, Dahn Yoga exercises have been made freely available because of the founder's concern that holistic health of individuals is vital for a peaceful society. In that same spirit, the Harbor Steps Dahn Yoga Center in Seattle is being recognized for its continuous commitment to community service, in particular extending the benefits of yoga to blind and visually impaired individuals.
In the spirit of its founder's concern for public well-being, Dahn Yoga hopes to encourage more widespread and innovative community service efforts by its employees, members and any other practitioners. For over ten years the Harbor Steps location has been actively involved in community service. It is being recognized for its current series of Dahn Yoga classes offered in connection with Vision Loss Connections, a Seattle area community and cultural organization benefiting blind and visually impaired individuals.
Led by Bonnie Taschler, a retired school teacher with several years of experience teaching Dahn Yoga community classes, the experience was a new departure for instructor and students alike. With the support of Dahn Yoga instructors and her husband, Bonnie developed a unique style for working with blind and visually impaired students. The first class of ten students and four seeing-eye dogs was the start of a successful series. One participant said "I feel so joyful. I feel like a little kid again." Another said "I feel so quiet inside. Really, relaxed!" Bonnie says teaching Dahn Yoga to the visually impaired was challenging at first, but it has been her most rewarding experience yet.
About Dahn Yoga:
Dahn Yoga is a dynamic mind-body practice originating in Korea. Dahn Yoga classes combine stretching, flowing movement, deep breathing exercises and meditation in a simple and easy to learn format. Dahn Yoga is often taught alongside Tai Chi, QiGong and Meditation classes.
In the United States, Dahn Yoga classes are offered at Dahn Yoga & Health Centers, Inc., a national leader in health and wellness. Dahn Yoga classes are also offered at Body & Brain franchise, affiliate and community-based locations. Dahn Yoga reviews can be found at Dahnyoga.com.
###