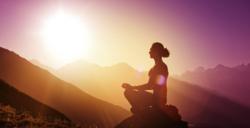 Dahn Yoga relieves our stress, opens our heart, strengthens our will, and clears our mind.
Gilbert, AZ (PRWEB) October 12, 2012
Dahn Yoga & Health Centers, Inc., a national leader in health and wellness, now offers regular health tips in their monthly newsletter, Dahn Yoga Life. The October 2012 issue shares studies of how the unification of mind, body, and spirit that yoga creates may alleviate the physical symptoms of Breast Cancer and its treatment, helps people find meaning in their experience and brings them hope.
With the focus on Breast Cancer Awareness Month, self-awareness is at the forefront and practitioners are encouraged to reflect on how each are living their own lives and learn from the courageous women who deal with this disease.
As recent medical research seems to be endorsing the possible benefits from ancient healing arts and meditation in creating a balanced body and good health, Dahn Yoga exercises and one-on-one training with an instructor may help by applying mindfulness to daily activities, as well as provide a greater understanding of Ki, or energy, and create better conditions for harnessing inner strength.
Quoting studies that investigated factors such as fatigue, daily functioning, depression and spirituality, the yoga postures, breathing, meditation, and relaxation that the subjects experienced in Dahn Yoga practice was shown to improve the quality of life for the women.
Dahn Yoga is a mind-body practice that combines the ancient wisdom of Ki energy training with modern techniques to maximize the brain's functioning and the body's energy. Dahn Yoga benefits are many and practitioners report that Dahn Yoga relieves stress, opens the heart, strengthens the will, and clears the mind.
About Dahn Yoga:
Dahn Yoga is a dynamic mind-body practice originating in Korea. Dahn Yoga classes combine stretching, flowing movement, deep breathing exercises and meditation in a simple and easy to learn format. Dahn Yoga is often taught alongside Tai Chi, Qigong and Meditation classes.
In the United States, Dahn Yoga classes are offered at Dahn Yoga & Health Centers, Inc., a national leader in health and wellness. Dahn Yoga classes are also offered at Body & Brain franchise, affiliate and community-based locations.