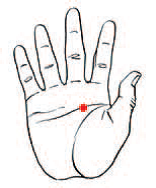 Activating this important meridian point in the hands opens your heart and boosts your brain power.
Gilbert, AZ (PRWEB) May 15, 2013
Dahn Yoga & Health Centers, Inc., a national leader in health and wellness, continues to offer greater understanding of the body's meridian points in their new monthly series in the newsletter, Dahn Yoga Life and illustrates Dahn Yoga exercises to experience energy sensitivity.
In the May 2013 issue of Dahn Yoga Life, the informative Meridian series focuses on another of the body's 365 meridian points as it shares Dahn Yoga benefits. The article, "Jangshim: Energy Gateways for Your Heart" gives illustrations of this important energy point that is located in the palms of the hands. The significance of Jangshim in daily life for Koreans is expressed and the Korean meaning of the word Jangshim is explained.
The article offers insight as to the influence the Jangshim has over the six meridians of the arms. These meridians include the heart, lung, pericardium, large intestine, small intestine, and triple heater.
"Scientists found humans have large amounts of cortex devoted to the hands along with the mouth. That's how sensitively and subtly the brain reacts to sensations felt in the hands. That's why Dahn Yoga's energy sensitizing training is a superior method for improving the brain's circulation of energy and capabilities," the article states.
Understanding the energy and healing that can be activated through the Jangshim points in the hands, instructors of Dahn Yoga classes teach several different exercises for stimulating the points. These exercises that stimulate and activate Jangshim points are described in easy to understand text and illustrations within the article.
For those interested in learning more about meridian points, back issues of Dahn Yoga Life which include previous articles in the series are available online. Visitors to DahnYoga.com can sign up for the free newsletter as well as for regular news and information on Dahn Yoga practice and updates about the Dahn Yoga community as this monthly series continues to explore meridians and related topics.
About Dahn Yoga:
A national leader in health and wellness, Dahn Yoga is a dynamic mind-body practice originating in Korea that combines stretching, flowing movement, deep breathing exercises and Dahn Yoga meditation in a simple and easy to learn format that focuses on the development of the body's core strength as the basis of physical, mental, and spiritual health. Dahn Yoga includes a unique emphasis on the brain as the determiner of health and wellbeing and classes may include brain exercises that challenge and sharpen the mind and help practitioners develop greater awareness and sensitivity to the well-being of their bodies.