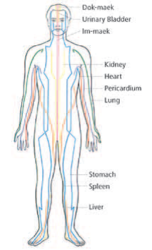 Dahn Yoga training goes beyond the health of body and mind to actually influence a change in one's life attitudes and awareness.
Gilbert, AZ (PRWEB) January 30, 2013
Dahn Yoga & Health Centers, Inc., a national leader in health and wellness, now offers a new series, "Dahn Yoga and the Meridian System" in their monthly newsletter, Dahn Yoga Life. This guide to the body's meridian system will help practitioners deepen their understanding of Dahn Yoga exercises and Dahn Yoga principles.
Dahn Yoga is a mind-body practice that combines the ancient wisdom of Ki energy training with modern techniques to maximize the brain's functioning and the body's energy. Dahn Yoga benefits are many and practitioners report that Dahn Yoga relieves stress, opens the heart, strengthens the will, and clears the mind.
The "Dahn Yoga and the Meridian System" series will offer a closer look at how meridian exercises activate and circulate the body's energy much more effectively than exercise alone. The many types of meridian exercises, from tapping, rotating, shaking, twisting and squeezing as well as how each can exercise assist the body will be examined.
As the feature explains, Dahn Yoga, which means "energy yoga" is made up of different forms of energy training based on an understanding of the human energy system. With a broad overview for January's issue, Dahn Yoga Life tells how Dahn Yoga practice incorporates meridian exercises, energy breathing and energy meditation into the practice.
An explanation of the meridian system in the human body is given as well as information on of how these points relate to familiar acupressure and acupuncture therapy. Symptoms, including pain, often develop in areas consistent with meridian points and accumulated energy referred to as "stagnant energy" can affect overall well-being and health.
Of special interest is the article's reference to work by Gary Craig who developed a technique in the mid 1990's which he called Emotional Freedom Technique (EFT) that is based on meridian theory. The popular technique treats negative emotions by tapping specific points on the body and may improve physical symptoms as well as emotions, and can contribute to other changes as well.
Results reported by those who have tried EFT are consistent with Dahn Yoga practitioners who, in a recent survey reported "more positive thoughts" (40% of the participants). And as the Dahn Yoga Life article states, "Dahn Yoga training goes beyond the health of body and mind to actually influence a change in one's life attitudes and awareness."
Recent medical research seems to be endorsing the possible benefits from ancient healing arts and meditation in creating a balanced body and good health. A proper understanding of meridian points can clearly enhance Dahn Yoga practice.
About Dahn Yoga:
Dahn Yoga is a dynamic mind-body practice originating in Korea. A national leader in health and wellness, Dahn Yoga classes combine stretching, flowing movement, deep breathing exercises and meditation in a simple and easy to learn format that is focused on the development of the body's core strength as the basis of physical, mental, and spiritual health. http://www.DahnYoga.com or experience online yoga classes on LifeParticle.com and LifeParticleTV's YouTube channel.