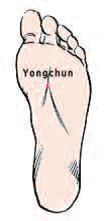 Once the Yongchun points open, one can actually feel warm energy rising from the feet through the legs and spreading to the whole body.
Gilbert, AZ (PRWEB) May 03, 2013
Dahn Yoga & Health Centers, Inc., a national leader in health and wellness, continues their new series in the Dahn Yoga monthly newsletter, Dahn Yoga Life, to offer greater understanding of the body's meridian points.
In time for Spring, the recent issue of Dahn Yoga Life continues its series focusing on one of the more important of the body's 365 meridian points. Highlighting the Yongchun, the feature article, "Take a Step and Spring into Life" gives illustrations for locating this important energy point at the bottom of the foot, and the Korean meaning of the name is explained.
Insight is given as to the many health connections this meridian point boasts; "Activated Yongchun energy also influences the energy of the six meridians flowing in the legs: the kidney, liver, gallbladder, stomach, spleen, and bladder meridians. The Yongchun is so important that it is also used for first aid to treat fainting, stroke, and sudden pain."
Understanding the vital energy throughout the body that can be activated through the Yongchun points, Dahn Yoga teaches several different methods for stimulating the points. These methods are described in easy to understand text and illustrations. Also offered is a tip that can be put to into practice while walking to further enhance the experience of energy flow from the Yongchun meridian points. Once the Yongchun points open, one can actually feel warm energy rising from the feet through the legs and spreading to the whole body.
For those interested in learning more about meridian points, back issues of Dahn Yoga Life which include previous articles in the series are available online at http://www.dahnyoga.com. Visitors to DahnYoga.com can sign up for the free newsletter as well as for regular news and information on Dahn Yoga practice and updates about the Dahn Yoga community as this monthly series continues to explore meridians and related topics.
About Dahn Yoga:
A national leader in health and wellness, Dahn Yoga is a dynamic mind-body practice originating in Korea that combines stretching, flowing movement, deep breathing exercises and Dahn Yoga meditation in a simple and easy to learn format that focuses on the development of the body's core strength as the basis of physical, mental, and spiritual health. Dahn Yoga includes a unique emphasis on the brain as the determiner of health and wellbeing and classes may include brain exercises that challenge and sharpen the mind and help practitioners develop greater awareness and sensitivity to the well-being of their bodies.