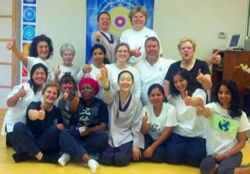 There is nothing more precious than the moment where you witness a person awakening to their value as a perfect being filled with love.
Gilbert, AZ (PRWEB) February 27, 2013
Dahn Yoga & Health Centers, Inc., a national leader in health and wellness, spotlights the Wilshire Body & Brain Center in Los Angeles, California, and the Dahn Yoga Center in Katy, Texas, as Centers of the Month in their newsletter, Dahn Yoga Life. These two centers exemplify the commitment to community and cultural pride.
The Wilshire Body & Brain Center in Los Angeles, California, was featured in Dahn Yoga Life (January 2013). The membership of this center is predominately Korean American and it overflows with "Hongik" spirit, combining commitment to community with cultural pride.
The center, located in the area of Los Angeles known as "Little Korea", was founded by Baeksik Wang and his wife, Junghyun Kim about ten years ago. This article illustrates how, by sharing a vision, the couple care for their members with heart in the Korean way of Hongik. One of the essential Dahn Yoga principles, Hongik is the concept of living life for the benefit of all.
Dahn Yoga Life shares the story of how this community has embraced the center as they share in daily activities and enjoy Dahn Yoga's benefits. In addition to their practice, members spend time caring for the center just as if they were caring for their own homes. Sipping warm tea together and singing a traditional Korean folk song together, the sense of community abounds.
This happy, healthy atmosphere has proven quite healing for its members. Dahn Yoga Life tells the story of Junghee Yoo, recently diagnosed with terminal, inoperable cancer. Dahn Yoga practice has helped improve her quality of life. Recent good news of improvement in her health, with a reduction in her cancer after only four months of practice, has been a shared joy for the center's members.
Enjoy the story of the strong sense of heritage and community at the Wilshire Brain & Body Center, where members take time to know each other and follow their practice with their tea and a song. While these traditions may be somewhat unique to the center in America, these and the monthly potlucks these Dahn Yoga community members share illustrate Hongik most beautifully.
In February Dahn Yoga news, the spotlight is on the Dahn Yoga Center in Katy Texas. The issue shares the story of manager Yana Lee, who was raised by parents who were Dahn Yoga instructors. Lee has used this solid foundation to share her highest possible visions with her community.
The feature article gives a glimpse of life in this quiet residential area and how the Center serves as a place for the community to share not only their practice, but their religion as well.
Lee grew to understand her role in the community, "When I became a Dahn Yoga instructor, I just wanted to share my love. Nurturing is love, comforting is also love, but a deeper love is to help others grow and learn the true value of their life. There is nothing more precious than the moment where you witness a person awakening to their value as a perfect being filled with love."
The article also shares the story of Becky, a Dahn Yoga member who has benefited from Lee's guidance to help her experience healing of a speech difficulty she was experiencing. Read more about Lee's goals for herself and the Katy, Texas community in the article, "Be Happy if You can Share Love" (February, 2013).
About Dahn Yoga;
Dahn Yoga is a dynamic mind-body practice originating in Korea. A national leader in health and wellness, Dahn Yoga classes combine stretching, flowing movement, deep breathing exercises and meditation in a simple and easy to learn format that focuses on the development of the body's core strength as the basis of physical, mental, and spiritual health. Dahn Yoga includes a unique emphasis on the brain as the determiner of health and wellbeing. Thus, classes may include brain exercises that challenge and sharpen the mind and help practitioners develop greater awareness and sensitivity to the well-being of their bodies. In addition to classes, Dahn Yoga offers workshops like Shim Sung, which regularly incorporate guided interactions, deep breathing, meditations, and more to help participants discover inner power, personal fulfillment and holistic balance. For more information, visit DahnYoga.com or experience online yoga classes on LifeParticle.com and LifeParticle TV's YouTube channel.