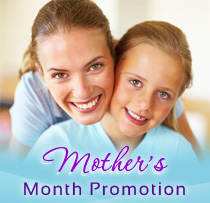 Mom can nurture herself with Dahn Yoga classes!
Gilbert, AZ (PRWEB) May 10, 2013
Dahn Yoga & Health Centers, Inc., a national leader in health and wellness, extends a Special for Mother's discount to new and current members on their website and in their newsletter, Dahn Yoga Life. The May 2013 issue tells how Mom can nurture herself with Dahn Yoga classes.
Dahn Yoga Life states that Moms can enjoy Dahn Yoga with one of two special offers this month. For current members, Dahn Yoga is offering a 20% discount on a new membership for Mother. A "buy one membership, get one half-price" offer is available to those who sign up for any new membership. The issue reminds us that membership makes a great Mother's Day gift.
Dahn Yoga Life is a monthly online publication that offers articles on a wide range of subjects for Dahn Yoga practitioners and anyone who would like to learn more about Dahn Yoga benefits. Each issue includes information about meditation, health, Korean culture, and happenings in Dahn Yoga communities throughout the world. More information is available about the Mother's Month Special in Dahn Yoga Life, or contact your local Dahn Yoga Center.
About Dahn Yoga:
A national leader in health and wellness, Dahn Yoga exercise is a dynamic mind-body practice originating in Korea that combines stretching, flowing movement, deep breathing exercises and meditation in a simple and easy to learn format that focuses on the development of the body's core strength as the basis of physical, mental, and spiritual health. Dahn Yoga includes a unique emphasis on the brain as the determiner of health and wellbeing and classes may include brain exercises that challenge and sharpen the mind and help practitioners develop greater awareness and sensitivity to the well-being of their bodies.