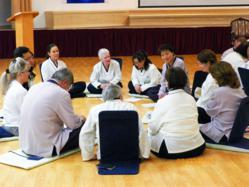 The new LifeParticle Ambassador Training workshop charges participants with passion to share the principles and effects of LifeParticles.
Gilbert, AZ (PRWEB) April 26, 2013
Dahn Yoga & Health Centers, Inc., a national leader in health and wellness, spotlights the new Dahn Yoga workshop, LifeParticle Ambassador Training at DahnYoga.com this month. The article, "The Newly-born Ambassadors of LifeParticles" shares insight into the workshop that "charges participants with passion to share the principles and effects of LifeParticles."
This important new addition to Dahn Yoga workshop offerings features Dahn Yoga principles and focuses on the Hongik (for the good of all) vision of taking ownership and responsibility for ourselves and for others as participants learn to change the world with power that we have within.
The article shares both participant and instructor comments on the experience of the weekend's activities. Workshop training includes Haeng Gong energy accumulation postures, Energy Meditation Circles and focuses on LifeParticles. As the website, http://www.LifeParticle .com explains, "LifeParticle is a term coined by meditation expert Ilchi Lee and refers to the smallest energy particles that compose all of life. He created it to help people visualize the powerful life energy available to all humanity. LifeParticles can be considered the building blocks of all life and with them one has the potential to create anything."
On the two-day workshop, the article states explains, "We talked about the variety of unique opportunities in the United States for changing the world—and how now is the time [for us] to make it happen!"
Read the full article at Dahn Yoga.com to learn more about this exciting new workshop that raises consciousness and awareness about LifeParticles and more!
About Dahn Yoga: Dahn Yoga is a dynamic mind-body practice originating in Korea. A national leader in health and wellness, Dahn Yoga classes combine stretching, flowing movement, deep breathing exercises and meditation in a simple and easy to learn format focused on the development of the body's core strength as the basis of physical, mental, and spiritual health. Dahn Yoga includes a unique emphasis on the brain as the determiner of health and wellbeing. Thus, classes may include brain exercises that challenge and sharpen the mind and help practitioners develop greater awareness and sensitivity to the well-being of their bodies. For more information, visit http://www.DahnYoga.com or experience online yoga classes on LifeParticle.com and LifeParticle TV's YouTube channel.