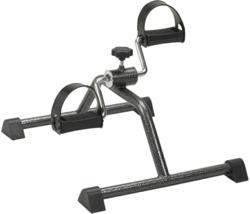 Daily aids are assistive devices that make everyday tasks easier for the elderly or disabled
Fulton, MD (PRWEB) February 06, 2013
Those who require the assistance of a mobility aid to get around may also have trouble with other everyday tasks. For example, it's hard to get exercise when one can't safely walk on their own. But if they have an exercise peddler they can get many of the same benefits of riding a bike, but without any safety issues or concerns about stability.
That's why JustWalkers.com, one of the internet's largest mobility aid suppliers, has added a new Daily Aids section to their site. Daily aids, sometimes called daily living aids or aids to daily living, are assistive devices that make everyday tasks easier for the elderly or disabled.
Let's say someone has limited hand functionality. This may make simple things like opening a rounded door knob trickier. But if they get a doorknob extender, they can turn the round doorknob into a handle doorknob and get more leverage.
Or let's say one no longer has the strength to lug shopping bags around a mall all day, or carry home a week's worth of groceries. They can still go shopping with the help of a folding shopping cart.
Bryan Mercer, a pharmacist for over 30 years and JustWalkers.com CEO, said, "Adding the Daily Aids section just made sense. These products appeal to many of our visitors and we were already selling them over on our sister site Just Home Medical."
The company plans to extend its Daily Aids section in the near future, but will continue to focus the site primarily on mobility aids such as walkers and rollators.
About JustWalkers.com
Just Walkers provides premium walking aids throughout the United States for people of all ages looking for the best mobility products at the lowest price. They understand the importance of choosing the perfect mobility device to fit your needs. With this in mind, they offer only the best products, parts, and accessories including detailed information about each product and numerous user reviews to help you with your decision. They are proud to serve those who seek information and assistance in determining which walking aid works best for them. With a wide assortment of walking aids at affordable prices, JustWalkers.com is determined to make your shopping experience worthwhile.