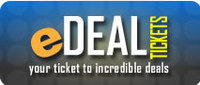 We're offering Austinites the opportunity to save 50% or more at local area business and also contribute to a great cause at the same time.
Austin, TX (PRWEB) May 26, 2010
eDEAL Tickets announces it will launch its first online deal in the Austin market on Tuesday, June 1, 2010. The eDEAL Tickets website will offer savings of 50% or better on great things to eat, see, and do in the Austin area.
eDEAL Tickets is about more than just great deals. The company also contributes to great causes and gives back to the community. Each month, eDEAL Tickets will select a local charity to benefit from its sales. eDEAL Tickets is proud to announce that the Austin Humane Society has been selected to be the first charity to receive a portion of company profits during the month of June. The Austin Humane Society is the city's largest no-kill, non-profit animal adoption shelter dedicated to saving Austin's homeless cats and dogs, educating our community about responsible pet ownership, and reducing pet overpopulation.
"The Austin Humane Society is so grateful for these community partnerships as we are a non-profit that does not receive government funding and relies solely on the support of individuals and businesses in the community," said Frances Jonon, Executive Director at the Austin Humane Society.
eDEAL Tickets will host a launch party on June 1, 2010 at The Belmont(located at 305 West 6th St.) starting at 7pm. The event is open to the general public and there will be a free drawing for gift cards to local area businesses including Segway Nation, Mikado Ryotei, Froyoyo Yogurt, and Get Sum Dim Sum.
Members of the eDEAL Tickets team are looking forward to the launch of their website and meeting both local businesses and customers.
"We are excited to celebrate our official launch and also give back to the Austin community," said eDEAL Tickets founder Will Wong. "We're offering Austinites the opportunity to save 50% or more at local area businesses and also contribute to a great cause at the same time."
Peter Tsai, eDEAL Tickets Social Media Director said, "Local businesses give Austin a unique character and make the city one of the coolest places to live. eDEAL Tickets looks forward to helping local businesses and charities grow and prosper while helping our customers save money."
About eDEAL Tickets
eDEAL Tickets is an Austin-based company that strives to benefit the community through the fusion of online marketing, customer savings, and philanthropy. Each day, the company helps a local business gain exposure by offering customers an incredible deal at that business with savings of 50% or greater. eDEAL Tickets then donates a portion of all ticket sales to benefit a local charity.
Media contact: Peter Tsai - peter(at)edealtickets(dot)com
For more information, visit http://www.edealtickets.com.
To learn how a business can be promoted on eDEAL Tickets, visit http://www.edealtickets.com/promote.
To recommend a charity, email info(at)edealtickets(dot)com
# # #