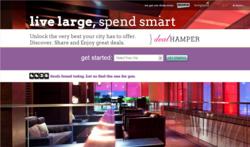 At DealHamper we believe in two things - Live Large, Spend Smart
San Diego, CA (PRWEB) July 25, 2012
DealHamper today launched a major website revision for its daily deals aggregator website, creating the web's smoothest and most optimized deals, coupons, and discounts. The local daily deals website is designed to help users save money on everything from daily needs to new and exciting activities. The overhaul optimizes the user experience, impacting everything from the general layout to advanced sharing via social media. The resulting interface connects users quickly and simply with the deals they want.
"Our company is built around the idea of 'live large, spend smart," says Cartic Natraj of DealHamper. "With our new site revision, we can truly make this happen. We've streamlined the user experience and expanded our deal sourcing, so no matter what you're looking for, you'll be able to find Deal Of The Day coupons from around the web."
DealHamper's core daily deals aggregator model delivers categorized deals based on location. Users can sort and view based on category and subcategory in an easy-to-digest grid format or an innovative map view, which allows users to truly discover the best location for their deal. Local daily deals include restaurants, fitness, event tickets, health and beauty, and more. Each city's deals, coupons, and discounts are updated as sources generate new offerings, creating a one-stop shop for locals to discover new and cost-effective experiences around their area.
"A daily deals aggregator should do two things – save you money and expose you to new possibilities. DealHamper offers tremendous cost savings – everyone wants that these days," says Pravin Rasiah of DealHamper. "However, with so many great local daily deals being aggregated through our system, it's impossible to not discover something exciting and new to try."
The new DealHamper revision implements additional features to make saving money a social experience. The new map view option allows users to discover local daily deals around a specific location in the city, simplifying planning for everyone involved. Social plugins also deliver user findings on key social networks, letting people know how, when, and where they can save money on exciting new restaurants, bars, fitness clubs, and much more. An email subscription option is also available to ensure that users get the latest aggregated local deals delivered straight to their inbox.
With deals ranging from products to dining to events, DealHamper offers something for every situation – singles to families, children to adults. New ideas and options delivered daily ensure that something exciting is always waiting to be discovered in the user's city, all at the best prices available. DealHamper brings a new way to enjoy the very best of everything: live large, spend smart.
About DealHamper:
Founded in 2011 in San Diego, DealHamper is a daily deal aggregator that features all the best local daily deals in your city. Deals on hotels, spas, restaurants, experiences and excursions are available for as much as 80% off! DealHamper scans and collects daily deals across major metropolitan markets, including San Francisco, Los Angeles, Seattle, San Diego, Chicago, New York City and more. All deals are continuously updated and sourced from numerous local daily deal websites such as Living Social, KGB deals, Groupon and many more, creating a one-stop shop for the absolute best local deals. Learn more at http://www.dealhamper.com/