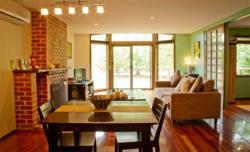 "We have online bargains all year round and especially during this season. We're also unique in that we don't require our shoppers to fork out cash right away. Just grab what you like and redeem when you're ready."
Melbourne, Australia (PRWEB) October 31, 2012
Holiday season shopping is never a stressful activity at Australia-based daily deals site Deal Free.
This week, Deal Free fires up the online bargain hunting craze with new and more daily deals to choose from.
For starters, parents looking for a unique yet affordable present to their sons can now take advantage of more than 70% savings on an electric 6V Hummer-style black Jeep. This toy model is every bit as desirable as the adult version and it is the ideal gift for boys and girls (three years and above) alike. It travels between three to six kilometers per hour and is powered by a rechargeable battery.
Also on Deal Free this week is a coupon for three NuShape Comfort Bras for only $19 plus $6 for shipping. These specially designed undergarments are available in three colors: white, black and beige. The wireless bra comes in slim designs for smoother and sexier feel. The NuShape Comfort Bra, which is made of four-way knitted fabric, also helps eliminate underarm and back fat and has soft coverage cups. Shoppers who grab this coupon can enjoy more than 80% discount from its original value of $135.
Another coupon ideal for the fast approaching holiday season is a Melbourne deal worth only $290. This daily deal features a romantic midweek getaway for two in a private romantic villa. The package includes two-night accommodation, daily breakfast, dinner voucher at a local restaurant, entrance to Buxton Trout and Salmon Farm and complimentary bottle of wine and chocolates. Shoppers who avail of the coupon are also entitled to a late 12:00 PM checkout. This is ideal for couples who are looking for a budget-friendly Holiday getaway or as a gift to friends and loved ones.
More daily deals are available on the website. However, deals are valid for a limited time only so visit Deal Free now and grab a coupon.
At Deal Free, there is no upfront payment required rom buyers. Simply grab the coupon and pay upon redemption. Deal Free is also merchant-friendly because it's commission-free. Entrepreneurs only need to pay a flat to be featured on the website and Deal Free does not take a share of whatever profits are made afterward.
Deal Free is ideal for travelers to Australia, especially those on a tight budget, because it offers Australia-based discounts including Sydney deals and Melbourne deals, among other online bargains.
Deal Free is managed by Melbourne-based digital solutions company The Digital Group.
"The Holiday season has a tendency to get expensive with all the mandatory shopping," The Digital Group Managing Director Ashley Farrugia said. "At Deal Free, it doesn't have to be. We have online bargains all year round and especially during this season. We're also unique in that we don't require our shoppers to fork out cash right away. Just grab what you like and redeem when you're ready."
The Digital Group also runs other ecommerce sites including female oriented shopping portal LetsShop.com; pet-related discount aggregator site PetBox.com.au; multi-user back end site for boutique winery offerings OzWineDirect.com.au; deal and bargains aggregator site DealMonkey.com.au; Melbourne transportation services provider YellowExpress.net.au; hoist and crane products supplier RelayCranes.com.au; and RocketEmail.com.au which is a fully managed HTML newsletter service focusing on real estate, financial planning and mortgage broking.
The Digital Group is also the team behind in-house, specialist email marketing engine, SendNow, which recently introduced software updates for 2012.
The digital solutions provider offers traditional promotional and acquisition strategies such as email marketing, co-registrations, post-sale acquisitions and cost per lead sales campaigns. The Digital Group is also the official digital solutions partner of Carbon Market Pty Ltd, owner of Australia's leading carbon management portal.
For the best daily deals in Australia, online bargain hunters can follow Deal Free on Twitter (dealfree1) or on Facebook (Dealfree) to stay updated on the latest Australia-based daily deals and steals.