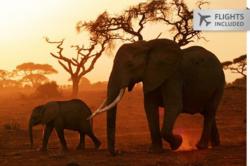 This week, get a chance to grab a coupon for an all-inclusive, five-day African safari with return flights onboard award-winning carrier Singapore Airlines.
Melbourne, Australia (PRWEB) November 01, 2012
Travelling is an opportune moment to relax and bond with family, friends and loved ones. However, travelling can strain the budget. Australia-based daily deals aggregator site Deal Monkey offers an alternative for budget travelers looking for affordable and yet fun ways to explore new places.
This week, get a chance to grab a coupon for an all-inclusive, five-day African safari with return flights onboard award-winning carrier Singapore Airlines. The package also includes a traditional four-course Boma dinner each night and accommodation at the four-star Royal Kruger Lodge in Marloth Park located on the border of Kruger National Park. The Royal Kruger Lodge is a thatched lodge with air conditioning and beverage facilities. The coupon is worth $3,079 for one person. Other inclusions are two open-vehicle game drives, a sundowner drive to the Crocodile River with local beer, wine, soft drinks and snacks, and a guided bush walk at the Marloth Park.
Online bargain hunters looking for Melbourne deals can also grab a coupon for a three-hour Mornington Peninsula Winery Tour on horseback plus all-day bathing pass to Peninsula Hot Springs for only $79 for one and $155 for two. Online shoppers who avail of this coupon get to experience a unique outdoor adventure which includes horseback riding through the stunning Red Hill scenery, a visit to two of Australia's best wineries and a chance to sample fine wines and a visit to the thermal mineral waters of the Peninsula Hot Springs. This coupon is great gift idea especially for adventure-loving relatives and friends.
Daily deals are available for a limited time only so go online now and start stocking up on coupons especially for the upcoming busy holiday shopping season. As one of the leading deal aggregator sites in Australia, Deal Monkey has the best and the latest daily deals on a variety of lifestyle needs—from food, fashion, entertainment to sports, health, travel and adventure, among others. Aside from online bargains, Deal Monkey also features daily catalogues and competitions.
To get started on Deal Monkey, go to the website, sign up for an account and choose deals based on personal preference. Choices will be compiled in one daily, customized email through Deal Monkey's subscriber profiling feature.
To view all the deals from various categories including holiday packages such as Sydney deals and Melbourne deals, visit the Deal Monkey website now.
Deal Monkey is managed by Melbourne-based digital solutions group The Digital Group.
"Vacations are always great fun but most of the time, they also come with major expenses," The Digital Group Managing Director Ashley Farrugia said. "That's where Deal Monkey can help vacationers. Our daily deals include travel package coupons that include key travel expenses such as airfare, accommodation, tours and food. Whether you're headed to Australia or elsewhere in the world, you're most likely to find something to help you out on your vacation," he explained.
Aside from Deal Monkey, The Digital Group also manages other ecommerce sites including female oriented shopping portal LetsShop.com; pet-related discount aggregator site PetBox.com.au; multi-user back end site for boutique winery offerings OzWineDirect.com.au; DealFree.com.au which is a commission-free daily deal site with no upfront outlay required from users; RocketEmail.com.au which is a fully managed HTML newsletter service focusing on real estate, financial planning and mortgage broking; hoist and crane products supplier RelayCranes.com.au; Melbourne transportation services provider YellowExpress.net.au; and specialist email marketing engine SendNow which uses the Amazon SES technology to ensure high delivery rates and speeds.
Together with other lists under management, The Digital Group also manages an online, non-incentivized database of more than 600,000 members across which they offer various kinds of marketing services including e-mail marketing campaigns, costs per acquisition (CPA), costs per lead (CPL) and costs per sale (CPS).
It is also the official digital solutions partner of Carbon Market Pty Ltd, owner of Australia's leading carbon management portal.