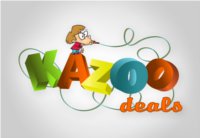 Search All Daily Deals from All Trusted Sites, All in One Place
Atlanta, Georgia (PRWEB) May 02, 2013
Nowadays, more and more people are shopping online. Websites like Kazoodeals bring a new level of savings and convenience into the process. Here are a few shopping tips to help the online shopping journey.
In order to shop like a pro online, try to take advantage of any discount available. Sign up for newsletters, daily deals and search for coupons before making a purchase. Oftentimes there will be amazing discounts available by investing the time to look for them.
Sign up at online communities that focus on finding bargains. Forum members post their best bargain finds and daily deals for other members to enjoy. This is a great way to stay posted on the bargains that pop up everyday. A great sale can pop up at any moment.
There are quite a few deal websites out there that provide large discounts on a daily basis. Check with Kazoodeals frequently to look for daily deals. Flash sales and daily deals can give really low prices as well.
Kazoodeals does all the work by searching hundreds of sources to find unbelievable daily deals, and brings them to one site. The consumer sets up a profile choosing only to see categories that interest them. Then each morning, there is one email containing a list of fantastic offers from across the nation, and in their local city, giving a chance to save up to 90% off on the daily deals that shoppers want to know about.
Users find Kazoodeals to be very user friendly, easy to navigate through, and they are also excited about the number of daily deals offered in many categories.
The Launch of this fun and appealing site has visitors buzzing over the amount of hours they can save by looking for deals across the web. They certainly seem to be striving towards being an all-in-one daily deals site.
KazooDeals USA
(888) 98KAZOO
kazoodeals.com