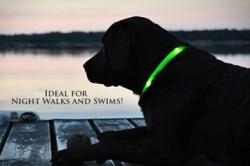 Also on this week's daily deals list is a Sydney deal featuring a LED dog collar. This nifty pet accessory is ideal for evening walks and swims because it is visible for up to 200 meters in the dark.
Melbourne, Australia (PRWEB) May 20, 2013
This week on leading daily deals aggregator site, DealMonkey, it's all about showing love for furry friends. Online bargain hunters can now grab discounted coupons for various pet care products and pet accessories which are available for a limited time only. DealMonkey regulars will also find a fresh batch of daily catalogues.
For the kitties, an all-in-one parasite treatment and protection medication is now available for only $57. Originally valued at more than $90, ADVOCATE is for the treatment of parasite infections and monthly applications also help protect pets against fleas, heartworm, gastrointestinal worms, mites and lice. This easy-to-use spot-on application acts on multiple stages of parasites to treat infections faster and sustain protection longer. It is also known to provide fast relief from fleas and is waterproof. One pack can last up to a month or more depending on applications.
For dog owners, HEARTGARD 30 is now available on DealMonkey at a discounted price of $29. HEARTGARD is a meaty chew used for the prevention of heartworm diseases, control of roundworms and hookworms. It is ideal for deworming puppies every two weeks and it comes in a delicious real beef flavor that dogs will love. With over 1.3 billion doses sold, HEARTGARD is safe and effective for canine companions as young as six weeks old.
Also on this week's daily deals list is a Sydney deal featuring a LED dog collar. This nifty pet accessory is ideal for evening walks and swims because it is visible for up to 200 meters in the dark. It is available in four colors—red, orange, yellow, blue and green and is both water- and weather-resistant. The collar is made from durable nylon so it is lightweight and comfortable for pets. Normally valued at $30, shoppers can now purchase this pet accessory for only $14 when they log on to DealMonkey now.
Daily deals and coupons are available for a limited time only so go online now and start stocking up on coupons before they run out or expire. As one of the leading deal aggregator sites in Australia, DealMonkey has the best and the latest daily deals on a variety of lifestyle needs—from food, fashion, entertainment to sports, health and wellness, travel and adventure and even pet care.
To get started on DealMonkey, go to the website, register for a new account and choose daily deals based on personal preference. Choices will be compiled in one daily, customized email through DealMonkey's subscriber profiling feature.
Online shoppers who are headed to Australia for a business trip or a holiday can find other Australia-based coupons including Melbourne deals, Perth deals and Adelaide deals, among others.
Deal Monkey is managed by Melbourne-based digital solutions company The Digital Group (TDG).
"DealMonkey compiles the best pet care deals online so if you're a pet owner looking for affordable supplies, DealMonkey should be on top of your list," TDG Managing Director Ashley Farrugia said.
Melbourne-headquartered TDG offers a unique "one-stop" online facilitation business. It helps businesses and organizations in all aspects of their online business and growth strategy.
TDG's expertise in the online area stems partially from its own experiences in launching, growing and operating the following websites:
DealMonkey – Australia's largest aggregation site of daily deals
DealFREE – Australia's only daily deal site requiring no upfront financial commitment
PETBox – Australia's only vertical aggregating product specials in the pet vertical
All the Catalogues – An aggregation site of all retail-based catalogues published in Australia
Doggish - Australia's number one ranked classified site for the sale/purchase of dogs
Horsez – A leading Australian site for the sale/purchase of horses
The digital solutions firm sets itself further apart in the Australian digital space by also offering email marketing solutions via Sendnow. It also has one of the largest digital marketing teams in Australia. The group manages nearly two million non-incentivized email addresses and offers some powerful solutions across EDMs, co-registrations, lead generation, member acquisition, post-sale web traffic, SEO and SEA.