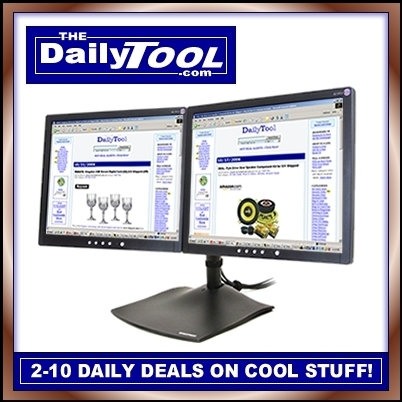 There are so many boring shopping sites out there and we make it fun
North Palm Beach, FL (PRWEB) October 25, 2006
Daily Tool (DailyTool.com), which posts just 10 daily deals reported to them by thousands of companies and consumers, launches one deal every hour on Fridays. "We're dubbing this the Black Friday Sale, even though the sale takes place every week," says David Meier, the owner of DailyTool.com.
Daily Tool takes advantage of both online, as well as brick and mortar stores that make pricing mistakes, offer discount coupons and rebates, or cheap closeout deals on a variety of products and services. "There are so many boring shopping sites out there and we make it fun," says Meier. "Our new Weekly Black Friday Sale is just another way to enjoy this unique shopping experience, and save a lot of money in the process. Buyers will be treated to one deal each hour, on the hour, throughout the day every Friday."
TREX -- a popular blogger on DailyTool.com -- writes: "I found this site about 6 months ago and I just can't get enough. You never know what you're going to get, and that keeps me coming back every single day."
When asked about the most popular Friday deals, Meier says: "Everyone loves freebies so we try to include totally free stuff and since Amazon.com has their own Friday sale, our Amazon.com Coupons have become quite popular as well." In less than two years, DailyTool.com boasts about 5000 unique daily visitors who come to the site with an 84% repeat visitor rate.
Impulsive buyers beware; daily deals are addicting, and consumers will find themselves visiting every day and wanting almost everything DailyTool.com posts.
About:
Started in June of 2005 and now boasting over 3000 posts, DailyTool.com was founded by David Meier who has been an active internet marketer and avid deal shopper since 1998. Daily Tool posts daily deals on home electronics, kitchen gadgets, computers, computer hardware, tools, bed & bath products, communications equipment, gift baskets & flowers, jewelry & watches, hobby & sports equipment, as well as freebies reported to them by thousands of retailers and consumers.
Contact:
David Meier, Owner
DailyTool.com
Meier's Enterprises
Contact: 561-906-0095
http://www.dailytool.com
http://www.dailytool.com/index.php/press/
# # #