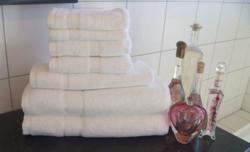 The 100% combed cotton towel set is originally valued at $93 so shoppers who purchase now get a whopping 56% discount.
Melbourne, Australia (PRWEB) September 26, 2012
This week at Australia-based daily deal site Deal Free, shoppers will find a great deal on a seven-piece set of combed cotton bathroom towels. Grab a coupon now and pay only $40 upon redemption. The set includes two towels, two hand towels, two face towels and a bath mat. It is available in eight colors and includes delivery. The coupon, which is valid for three months, is an ideal gift for the upcoming Holiday season. The 100% combed cotton towel set is originally valued at $93 so shoppers who purchase now get a whopping 56% discount. Special upgrades are also available.
At Deal Free, shopping for daily deals is convenient because there is no upfront payment required from buyers. All coupons for the listed online bargains are free. Deal Free is also merchant-friendly because it's commission-free. Entrepreneurs only need to pay a flat fee and Deal Free does not take a share of whatever profits are made afterward.
Daily deals are available for a limited time only so it is best to always check the website for featured online bargains. Travelers to Australia, especially those on a budget, will also find the daily deal site useful for checking out Australia-based discounts including Sydney deals and Melbourne deals.
The Deal Free site is managed by up and coming Melbourne-based digital solutions company The Digital Group.
"When shopping online, it is not uncommon for a shopper to be disappointed by the fact that a great deal is available and yet they can't get it because it requires upfront payment," The Digital Group Managing Director Ashley Farrugia explained. "That's not a scenario you'll encounter here at Deal Free because we make it easy for everyone—customers and merchants alike."
The Digital Group also runs other ecommerce sites including female oriented shopping portal LetsShop.com; pet-related discount aggregator site PetBox.com.au; multi-user back end site for boutique winery offerings OzWineDirect.com.au; deal and bargains aggregator site DealMonkey.com.au; Melbourne transportation services provider YellowExpress.net.au; hoist and crane products supplier RelayCranes.com.au; and RocketEmail.com.au which is a fully managed HTML newsletter service focusing on real estate, financial planning and mortgage broking.
The Digital Group is also the team behind in-house, specialist email marketing engine, SendNow, which utilizes Amazon SES technology to ensure high delivery rates and speeds. The same technology also allows for seamless integration of new members into an email database.
The digital solutions provider offers traditional promotional and acquisition strategies such as email marketing, co-registrations, post-sale acquisitions and cost per lead sales campaigns. The Digital Group is also the official digital solutions partner of Carbon Market Pty Ltd, owner of Australia's leading carbon management portal.
For the best daily deals in Australia, online bargain hunters can follow Deal Free on Twitter (dealfree1) or on Facebook (Dealfree) to stay updated on the latest deals and steals.