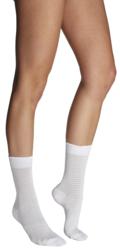 Your boots are made for walking, and Soxxy fashion socks are made for staying in place all day long. After years of frustration with flimsy footwear, inventor and soxpert Sarah Stabile gave socks a stay-put makeover. Her secret — B3 Grip Technology
New York, NY (PRWEB) December 07, 2011
Soxxy, the new non-slip women's fashion sock brand launched via an exclusive nationwide DailyCandy deal today to 3.5 million subscribers.
Inventor and Soxpert, Sarah Stabile saw a need for socks that don't slouch and designed a patented B3 Grip technology applied to the inside rim of her socks. Her stylish collection of Soxxys have been gifted to celebrities: Taylor Swift, Florence Welch, Kristen Stewart, Alicia Keys, Selena Gomez, Lea Michele, Charlize Theron and Oprah Winfrey. Taylor and Florence even have styles named after them. http://www.soxxy.com
Soxxy partnered with DailyCandy to lend a helping hand (and foot) to fashionable and functional socks. The deal is valued at $70, offering 50% off Soxxy's Holiday collection. Soxxy ankles, knees and thigh-highs will fit perfectly into a stocking or under the tree. The brand's "socks that hug you all day along" tagline is fitting all year round.
DailyCandy editors note…
"Your boots are made for walking, and Soxxy fashion socks are made for staying in place all day long. After years of frustration with flimsy footwear, inventor and soxpert Sarah Stabile gave socks a stay-put makeover. Her secret — the comfortable and patented B3 Grip technology — uses silicon elastomer in X and O shapes on the inside rim of each stocking, so ankle biters, knee huggers, and thigh grazers never slouch. And since Stabile doesn't sacrifice fashion for function, her collection offers stripes, solids, metallics, and animal prints to match any outfit or personality. Bring Soxxy back — and don't let it slip again." (http://bit.ly/rW8ow2)
Photos and samples available upon request.
Please contact: Sarah Stabile at sarah(at)soxxy(dot)com -or - 212.206.0446
Soxxy website: http://www.soxxy.com
Facebook: https://www.facebook.com/SoxxySocks
Twitter: @TheSoxpert
# # #