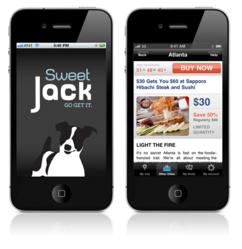 We're delighted to benefit from a fully integrated platform that offers mobile, for its convenience and the competitive edge it gives us.
San Francisco, CA (PRWEB) June 16, 2011
TownHog, the leading provider of private label daily deals services, announced the first white label daily deals iPhone application. SweetJack.com, the daily deals division of Cumulus Broadcasting, and The San Francisco Chronicle's SFGate Daily Deals, are the first of TownHog's elite publisher partners to offer the branded mobile app to their subscribers. Other media publishers offering daily deals can present their audience with the convenience of an iPhone app too. Furthermore, companies wishing to deploy mobile-only daily deals can also benefit from TownHog's platform.
Besides a great tool for daily deal subscribers, the mobile app supplements the on-air promotions TownHog's media partners give their daily deals. When viewers or listeners see or hear an on-air promotion, they can interact immediately via their mobile phone. Mobile allows TownHog's media partners to improve the conversion from radio, television and print to the daily deals they promote.
Daniel Caplin, VP of Social Commerce at SweetJack.com, commented, "Mobile is the ideal complement to our media marketing solutions for small and medium local businesses. We're delighted to benefit from a fully integrated platform that offers mobile, for its convenience and the competitive edge it gives us."
The white label daily deals app for iPhone allows users to check and purchase the deal of the day directly from their phone. Its set of features ensures that customers won't need a computer – or a printer -- to take advantage of local offers they hear or see about on radio or television. The ability to redeem vouchers without a physical voucher is especially important to some partners with appearance-conscious demographics. As for partners who provide travel related content, the new app allows their readers to get local deals in new cities in a matter of seconds.
"At Townhog we believe a mobile product strategy not only strengthens our suite of services, but also augments the already tremendous reach and influence of our media partners," commented Lilia Martinez- Coburn, VP of Marketing and Product for Townhog. "We are delighted to offer them the iPhone app as the first of many mobile products to come."
TownHog offers the iPhone app to all of our white label partners, as well as to other companies looking to participate in the mobile daily deals space. For more information visit Partners.TownHog.com.
About TownHog
TownHog has been a leading player in the daily deals space since 2009. With a reach of over 50 million subscribers, TownHog offers its merchant partners exceptionally wide distribution through the largest network of elite white label partners, including Cumulus Radio, LIN Media, CBS, Citadel, OpenTable, and the San Francisco Chronicle | SFGate, among others.
###