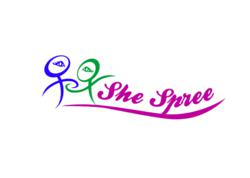 SheSpree.com is where a woman can go to find...the products and services needed for the full spectrum of her lifestyle.
Novato, CA (PRWEB) May 10, 2012
Amid the online shopping crazes of late, daily deal websites have gradually made their presence known with all subtlety of a locomotive. While the titans, groupon and livingsocial, have assumed twin thrones at the top of the quick-coupon kingdom, scores of other daily deal sites are launching every day, and shoppers can now revel in the fact that what they're looking for may well have a daily deal site dedicated to it before long. Enter SheSpree.com, a new daily deal website designed by women, for women. The site offers buy-today discount coupons on a variety of products and services that women need to help manage their personal lives, their homes, and their businesses. All the deals are offered by women-owned companies from Marin County, California (in the San Francisco Bay Area), so the site maintains a local appeal. However, products and services that can be phoned in, downloaded, or shipped also keep their nationwide subscriber base happy. The focus is on the economic empowerment of women, so every time a customer buys a coupon to save her own money, she'll also be supporting a woman entrepreneur with her shopping dollars.
While the larger daily deal sites tend to offer recreational activities and products that are fun to buy, SheSpree.com holds yet another distinction. Founder & CEO Paula Richer explains, "SheSpree.com is where a woman can go to find what she needs to help manage every area of her life – whether it's skin care for herself, a landscaper for her home, or a business attorney for her startup. We offer a bevy of choices, and discount the products and services needed for the full spectrum of her lifestyle."
Deal offers will hail from the industries of fashion, jewelry, fitness, health and wellness, financial services, specialty foods, art, house wares, books, flowers, spas, salons, beauty products, restaurants, entertainment, professional organizers, interior designers, graphic artists, coaches, marketing firms, and more. Women account for 85% of all consumer purchases, and over 50% of online shoppers are women, so by SheSpree.com throwing its gauntlet into the ring with its distinctly feminine brand, it shouldn't take long to secure its Queenly Seat in the Kingdom of Daily Deals.