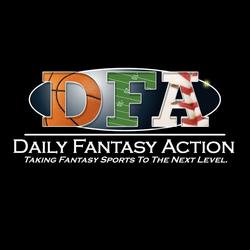 We are kind of like the Myspace for sports fans
(PRWEB) September 5, 2008
A new fantasy sports web site, http://www.DailyFantasyAction.com, was launched today, offering a new variation on the popular fantasy sports game that will allow for quicker game play for cash or for free.
Fantasy sports, particularly fantasy football, has gone from a cult game to one of the largest sports phenomenon since the invention of the Internet.
But any fantasy owner can tell you the day-to-day operations of a team can get tedious and annoying. And if the team is out of the playoff chase, there is virtually no reason to follow it anymore.
Daily Fantasy Action changes all that.
Daily Fantasy Action allows for people to challenge friends, coworkers or fellow football fans from around the country on a week-to-week basis. Using a salary cap, football fans can create a team on one week and then a completely different team the next.
And since there are no leagues, a football fan can challenge a new player or group every single week.
Ross Krasnow, a longtime sports fan and the founder of DailyFantasyAction.com said: "A lot of people join fantasy sports leagues, but it's such a long season and it becomes boring after a while. And it gets to be 'I hate doing this. I hate doing that.' This gives someone the freedom to start a team whenever they want."
The type of game makes playing for cash easy. Matchups can be played for free, or the owners can play for money, up to $500 per owner.
DailyFantasyAction.com will offer similar fantasy sports games for cash when baseball, hockey and basketball get into full swing.
But participating in fantasy sports is just one portion of Daily Fantasy Action. It also offers a customizable social media aspect, where fans can not only blog about the gridiron, but create a full profile with videos, pictures and friends.
"We are kind of like the Myspace for sports fans," said Krasnow. "This is a great opportunity for sports fans to be sports fans."
The editorial side will also be filled out by users, as writers can submit articles to be posted on the site.
For more information about Daily Fantasy Action or to challenge a friend, visit http://www.dailyfantasyaction.com or e-mail Ross at rkrasnow(at)dailyfantasyaction.com
###