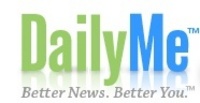 HOLLYWOOD, Fla. (PRWEB) September 8, 2008
DailyMe's Publisher Solutions (http://dailyme.com/solutions) allows publishers of high-quality news sites, including newspapers and broadcasters, to transform them into advanced online news destinations using the same technology that drives the successful DailyMe.com, one of the most advanced news destinations on the web. It also gives publishers the ability to provide features that let readers customize, personalize, aggregate, publish, share and interact with the news that interests them most.
By licensing DailyMe's news platform, publishers will be able to:
Offer its users the ability to personalize the content they consume. Offer various delivery settings and preferences so users can choose their schedule and content format including email, RSS feeds and DailyMe's automated printing feature. Let users combine site-based news with user-generated content using an advanced RSS reader. Give readers the ability to rank and filter stories using DailyMe's Meme-It widgets, which categorize news by emotion. Provide topic-specific pages that include both site content and/or news from other licensed sources. Present links to related content on every story page. "We are in the midst of a challenging time for publishers. Unprecedented creation of new content and the availability of old content make it very difficult for users to find and consume relevant, trustworthy information. To serve this need, we have launched DailyMe's Publisher Solutions, to give publications the ability to transform their websites into true, advanced news destinations with the tools and customization required by today's online consumers. Through Publisher Solutions, we are licensing the same technology used to power the successful DailyMe news destination, including personalization, search, advanced delivery and access to the DailyMe content network. With DailyMe's Publisher Solutions, high-quality news can remain a viable and vibrant business," said Eduardo Hauser, DailyMe's founder and Chief Executive Officer.
By powering their sites with DailyMe technology, publishers can expect a direct impact in some of their core metrics, including:
Expanding their user bases. Increasing time spent per online visitor. Generating more repeat visits. Improving subscriber loyalty. Monetizing their sites with additional inventory via new online and email formats as well as an offline print product. DailyMe is demonstrating its technology and will be available to review Publisher Solutions at its booth at the Online News Association 2008 Annual Conference on Sept. 11-13 in Washington, DC.
About DailyMe, Inc.
DailyMe, Inc. (http://dailyme.com) is a media and technology start-up offering both a user-centric news destination and a technology platform that publishers can use to enhance their news sites. The DailyMe destination takes a three-pronged approach that lets users select the specific types of content they wish to read, view stories popular among the DailyMe community of readers, or see the most interesting news of the moment as selected by DailyMe's editorial team. DailyMe aggregates its content from top-tier publishers around the world, with additional benefits including multiple delivery options and the ability to read full-length articles entirely within the DailyMe domain. By connecting news media, news consumers and technology, DailyMe has created a powerful platform and an unparalleled news experience for users globally. DailyMe is a free service.