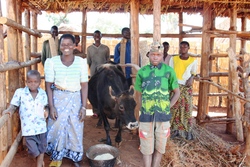 We are very excited about the potential of 'Cows for Africa' to positively affect the lives of people in need, and are thrilled to leverage the great work of our International Development Division in making the program happen
Arden Hills, MN (Vocus) September 24, 2009
A new program introduced by Land O'Lakes, Inc., will allow colleges and universities to help create a better quality of life through the donation of a dairy cow to families in Africa. The "Cows for Africa" program will run through the 2009-2010 school year, with cows being donated in spring of 2010.
Land O'Lakes Dairy Solutions will provide a donation toward the purchase of a cow on behalf of each participating college for every pound of foodservice item purchased. Each cow will provide enough sustainable income for a family to send their children to school, get healthcare, and meet their basic needs of food, clothing and shelter.
"We are very excited about the potential of 'Cows for Africa' to positively affect the lives of people in need, and are thrilled to leverage the great work of our International Development Division in making the program happen," said John Ellenberger, Land O'Lakes Foodservice marketing director. "In fact, the Foodservice team has already raised enough money through employee donations to buy a cow for a family in the central region of Malawi."
The donations will be made to Prosperity Worldwide, a nonprofit organization that utilizes donor contributions to carry out activities that deliver financial resources and tools to enhance Land O'Lakes International Development initiatives in developing countries. Prosperity Worldwide is an independent, privately-funded vehicle through which the general public can contribute to the goal of international development.
Land O'Lakes International Development implements successful and sustainable projects, creates profitable businesses and drives economic growth worldwide, assisted by funding primarily from the U. S. Agency for International Development and U.S. Department of Agriculture.
Land O'Lakes, Inc. (http://www.landolakesinc.com) is a national, farmer-owned food and agricultural cooperative with annual sales of approximately $12 billion. Land O'Lakes is a Fortune 250 company which does business in all 50 states and more than 50 countries. It is a leading marketer of a full line of dairy-based consumer, foodservice and food ingredient products across the United States; serves its international customers with a variety of food and animal feed ingredients; and provides farmers and ranchers with an extensive line of agricultural supplies (feed, seed, and crop protection products) and services. Land O'Lakes also provides agricultural assistance and technical training in more than 25 developing nations.
FAQ
Q: Where do the cows come from?
A: The cows are primarily imported from South Africa or Zambia.
Q: How much milk does one cow produce per day?
A: The cows typically produce an average of 14 liters per day, which is a great improvement over local breeds of cows (4 liters/day). This differs from the U.S. where the average cow produces approximately 23.2 liters a day due to nutrition, climate, breed and genetic differences.
Q: What training does the family receive before getting their cow?
A: The family undergoes extensive training for six to eight months before receiving their cow. They learn all aspects of caring for the animal (cow health and nutrition, proper milking and milk handling techniques, etc.). The family must also build a shelter for their cow and be able to feed it prior to receiving their animal.
Q: Why go abroad? There are people in need in the U.S.
A: Land O'Lakes helps families in the U.S. and around the world through its International Development Division (http://www.idd.landolakes.com) and the Land O'Lakes Foundation (http://www.foundation.landolakes.com).
Contact:
Jeanne Forbis
651-481-2071
# # #