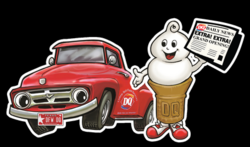 We are thrilled to open our inaugural DQ in Euless and welcome the mid-cities to enjoy our full menu of craveable food items, cool treats, and Orange Julius® specialty fruit smoothies and beverages. - General Manager, Anthony Cooper
Euless, TX (PRWEB) April 19, 2013
Dairy Queen Returns to the Mid-Cities on April 30
Flagship restaurant promises to be "Better Than You Remember!"
Many Texans remember "that cone with the curl on top" and commercial with a winsome voice swooning the hook, "That's What I Like About Texas!"
They're singing about Dairy Queens in the Great State of Texas — where Dairy Queens have their own distinct menu called "Texas Country Foods" and where there are more DQs than any other state in the union. In fact, DQs are often referred to as "the Texas Stop Sign."
But in the Dallas/Fort Worth Metroplex, there are very few Dairy Queen restaurants. Most of the 600+ DQs in Texas are in rural areas.
Until now.
Welcome to the newest Dairy Queen Restaurant in the nation — right in the heart of the mid-cities at 700 N. Industrial Boulevard in Euless. Just one block north of Trinity High School, this Euless DQ promises to be "better than you remember." The doors open at 10 a.m. on Tuesday, April 30.
The 3,340 s.f. DQ was built by local contractors, is being staffed by local employees (almost 100 have already been hired), and is owned and operated by long-time Tarrant County resident Michael Clarke. Clarke is often seen driving throughout the mid-cities in his DQ-red 1956 Ford F100.
"We are thrilled to open our inaugural DQ in Euless and welcome the mid-cities to enjoy our full menu of craveable food items, cool treats, and Orange Julius® specialty fruit smoothies and beverages," said General Manager, Anthony Cooper.
The Euless DQ is being called a "flagship" restaurant within the DQ system, because it blends the best of DQ's iconic history with the most modern innovations in the quick-service restaurant industry. Highlighted by the modern open-air grill and separate chill sections, the restaurant features comfortable booths and large wooden tables, warm lighting, music, HD televisions, free Wi-Fi, and an overall inviting environment.
Even the restrooms are completely "touch-free" with all fixtures, sinks, and soap operating with a wave of your hand. The restaurant can seat 72 guests inside and another 24 outside in the open air patio. From the 30-foot road sign with its exterior HD display, to the entrance doors with iconic DQ red spoons for handles, to the interior finishes of slate and maple — this DQ lives up to its tagline of being "better than you remember."
An Array of Menu Options
The food menu features Hungr-buster® burgers, Country Baskets®, and Texas T-Brand Tacos®. The state-of-the-art kitchen showcases some of the most sophisticated appliances, but Clarke reiterates that it comes down to the great DQ taste, "We're flame-broiling our burgers, we're sourcing the freshest ingredients, and we're training our staff to prepare the food with excellence so that our guests enjoy the great taste of Texas in every bite." The new DQ will also include its classic soft-serve treats: Blizzards®, Dilly Bars®, and those cones with the curls on top.
Unique to the Euless DQ is its dedication to DQ Cakes and Cupcakes. Two culinary-schooled and certified pastry chefs are creating frozen celebratory works of art to ensure special occasions are as delicious as they are beautiful.
And the Orange Julius drinks that were once sold at the mall years ago are back, and only at DQ. Premium Fruit Smoothies are made with real fruit and low-fat yogurt, and are blended fresh for customers upon ordering. The refreshing, frothy real fruit Julius Originals are also blended fresh. The delicious flavors for both Julius Originals and Premium Fruit Smoothies include Orange, Strawberry, Strawberry Banana, Tripleberry and Mango Pineapple.
Lower calorie options include salads, grilled chicken, wraps, and even Fruit Smoothie Lights. Protein boosts or even bananas can be added to the Orange Julius drinks.
For more information about the Euless Dairy Queen, visit dfwdq.com. Become a DFWDQ friend on Facebook at http://www.facebook.com/dfwdq.